AsiaFinest Cecilia Cheung
---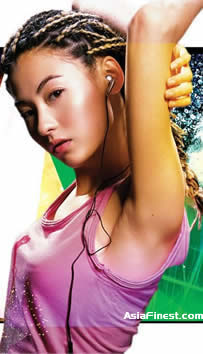 Name: Cecilia Cheung
Chinese Name: Zhang Bai Zhi / Cheung Pak Zhi
Birthday: May 24, 1980
Birthplace: Hong Kong
Height: 5'5 163dm
Weight: 100 lbs
Education: Rmit Holmes College
Hobbies: Tennis, Squash, Swimmming
Family: 1 Elder Sister, 2 Younger brothers
Favorite Singers: Jacky Cheung, A-mei Zhang, Shunza, Anita Mui
Favorite Colors: Violet, Red, Pink, Black
Favorite Food: Chocolate
Favorite Drink: Chocolate Milkshake
Favorite Actor/Actress: Chow Yun Fat, Dodo Cheng
Favorite Animals: Dog, Tiger, Lion
Traits: Fast learner, smiles a lot.

Cecilia Cheung was born in Hong Kong and educated in Australia. She speaks Cantonese, Mandarin, and English. Her fresh young beauty was discovered after she appeared in a tv soft drink commercial. She was talent-spotted by Chu Wing Lung,who is now her manager. Initially, Cecil's family were reluctant to allow their daughter to enter the entertainment industry, but Chu promised her father that he would take care of Cecil, and ensure that she didn't go astray.

Cecilia made her first film debut in comedian Stephen Chow's 1999 Chinese New Year release King of Comedy. In the film she plays a night club hostess who experiences an unhappy love affair. Cecil herself has said that she is not satisfied with her performance in the film, and hopes that she can do a better job in her next role. She feels that the most memorable shot is one in which she had to cry. It was her most memorable shot because it was hard for her to gather up this kind of emotion. According to Cecil, she had no experience what so ever on which to base her character's attitudes towards men.



After her first movie, Cecil decides to launch her singing career. She releases her first cd called 'Any Weather' in July of 1999. This was the start of a success career as we can see now.

Special Thanks to Cecilia_Yes for her bio and pictures.



Cecilia Cheung's Picture Gallery || Cecilia Cheung's Products


If you have any pictures of Cecilia Cheung, please send it to us and we'll credit you for it. Talk about Cecilia Cheung in our friendly discussion forum!