AsiaFinest Lucy Liu
---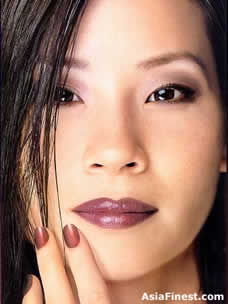 Birth name: Lucy Alexis Liu
Height: 5' 3" (1.60 m)
Date of Birth: 2 December 1968
Birth Place: Queens, New York, USA

Lucy Liu was born in New York City, and was raised with her brother, Alex Ya Liu (Liú Yá Lì), in Queens, New York by Chinese immigrant parents, and attended New York City's famous Stuyvesant High School. She attended New York University for only one year after being discouraged by the "dark and sarcastic" atmosphere of NYU. She transferred to University of Michigan at Ann Arbor, where she graduated with a degree in Asian languages and cultures. She managed to squeeze in some additional training in dance, voice, fine arts, and acting. During her senior year, Liu auditioned for a small part in a production of Alice in Wonderland and walked away with the lead; encouraged by the experience, she decided to take the plunge into professional acting. She moved to Los Angeles and split her time between auditions and food service day jobs, eventually scoring a guest appearance as a waitress on "Beverly Hills, 90210" (1990). That performance led to more walk-on parts in shows like "NYPD Blue" (1993), "ER" (1994), and "The X Files" (1993). In 1996, she was cast as an ambitious college student on Rhea Perlman's ephemeral sitcom "Pearl" (1996).

Liu first appeared on the big screen as an ex-girlfriend in Jerry Maguire (1996) (she had previously filmed a scene in the indie Bang (1995), but it was shelved for two years). She then waded through a series of supporting parts in small films before landing her big break on "Ally McBeal" (1997). Liu initially auditioned for the role of Nelle Porter, which went to Portia de Rossi, but writer-producer David E. Kelley was so impressed with her spunk that he promised to write a part for her in an upcoming episode. The part turned out to be that of growling, ill-tempered lawyer Ling Woo, which Liu filled with such aplomb that she was signed on as a regular cast member.

The "Ally" win gave Lucy Liu's film career a much-needed boost--in 1999, she was cast as a dominatrix in the Mel Gibson action flick Payback (1999), and as a hitchhiker in the ill-received boxing saga Play It to the Bone (1999). The next year brought even larger roles: first as the kidnapped Princess Pei Pei in Jackie Chan's western Shanghai Noon (2000). She became more famous with her turn as Alex in the Charlie's Angels movie, starring alongside more established modern Hollywood icons Drew Barrymore and Cameron Diaz. The sequel to the film, however, opened to poor reviews and box office receipts. Lucy was also paid sixteen million dollars less for her work in Charlie's Angels than co-star Cameron Diaz.



Lucy Liu starred with Antonio Banderas in Ballistic: Ecks vs. Sever, a critical and box-office failure that was remarkable only in its casting of two minorities as the lead roles. Lucy also had a role as O-Ren Ishii in director Quentin Tarantino's Kill Bill films. The first installment of the Kill Bill films, Volume 1, exposed Lucy as a more serious and physically adept actress than had been evident from her previous roles. She won an MTV Movie Award, further solidifying her fame with young, hip audiences, for "Best Movie Villain".

When she's not hissing at clients or throwing well-coiffed punches, Liu keeps busy with an eclectic mix of off-screen hobbies. She practices the martial art of Kali-Eskrima-Silat (knife-and-stick fighting), skis, rock climbs, rides horses, and plays the accordion. In 1993 she exhibited a collection of multimedia art pieces at the Cast Iron Gallery in SoHo (New York), after which she won a grant to study and create art in China. Her hectic schedule doesn't leave much time for romantic intrigue, but Liu says she prefers to keep that side of her life uncluttered.



Lucy Liu's Picture Gallery || Lucy Liu's Products


If you have any pictures of Lucy Liu, please send it to us and we'll credit you for it. Talk about Lucy Liu in our friendly discussion forum!