AsiaFinest Vivan Hsu
---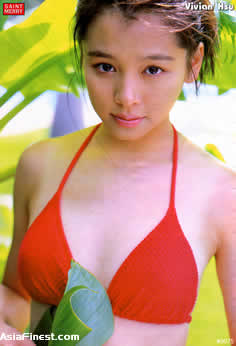 English Name: Vivian Hsu / Xu
Chinese Name: Jo Hsuan Xu
Nationality: Chinese
Religion: Christianity
Astrology Asian: Hare
Western: Pisces
Bloodtype: A
Height: 161cm (5ft 4inches)
Weight: 45kg (99.2lbs)
Measurement: Chest: 85cm (33.5inches)
Waist: 58cm (22.8inches)
Hip: 85cm (33.5inches)
Eyes color: Black
Hair color: Black
Language: Chinese
Birth Place: Taipei
Country: Taiwan
Currently Living In Taiwan City Taipei

The second of three children, Vivian was born Xú Shújua-n, and used this name until she began modelling nude. Her parents divorced when she was a child. She attended Taipei Jianxing Elementary School and Taipei Shulinguo Junior High School.

She got her start in entertainment after winning first place in a "Talented Beautiful Girl" contest held by Taiwan CTS TV in 1990. At this point, she was working by delivering food on her bicycle, and her customers began to recongise her from her television appearances. The same year she joined a musical duo named ??? (py. Shàonu( Dùi, en. Girls Team). They released two albums, in 1991 and 1992, then broke up. Following this, Vivian got her start in modelling.

She made her music debut in 1991 at the age of 16 as a member of a female trio named ShaoNuDui (Literally, Girl's Group). This group, however, never achieved popularity and Vivian temporarily parted from singing to explore the opportunities available to her in modeling and acting. After going to Japan and achieving some popularity, she once again entered the music industry starting in 1996 by releasing a few singles and then her first solo album, all in Japanese. It's remarkable enough that she became famous in a culture and language different from her own. Learning one foreign language must not have satisfied her enough, as she went through a speed course on "how to speak Korean in one week" and released a Korean music album in the latter part of 1996.



Due to rising stardom in Japan as well as a multi-million dollar contract from her planning agency, Vivian left her activities in Korea relatively unpromoted and focused back to her activities in Japan. Halfway through 1997, she joined two comedian program hosts to form a music group called the Black Biscuits. Black Biscuits was formed as a rival group to another popular Japanese music group named Pocket Biscuits. As silly as that seems to me, their songs are upbeat and pretty catchy. Now, she has returned to the Chinese music scene once again, releasing her debut solo Chinese album in Taiwan recently.



Pictures Gallery || Vivian Hsu's Products


If you have any pictures of Vivian Hsu, please send it to us and we'll credit you for it. Talk about Vivian Hsu in our friendly discussion forum!