AsiaFinest Asia 4
---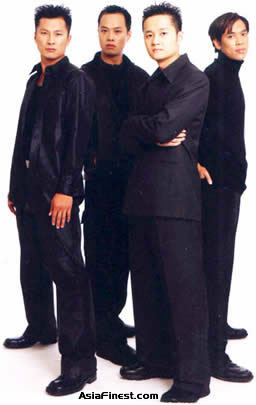 Based in Southern California, Asia 4 is a young dynamic group consisting of 4 talented musicians and vocalists of Vietnamese Origins. They exploded into the Vietnamese Music Industry a couple of years ago and have captured the hearts of many fans across North American and as far away as Europe, Australia and South East Asia with their many hit singles. They are constantly swamped with fan mails from around the world in the form of emails, fanbook entries as well as regular mails and special momentos sent to their postal box. They are truly taking the Asian music industry by storm as one of the fastest growing Male singing group around with the dream of hitting mainstream and be known more than an Asian Male singing group but a singing group with no cultural references and their music enjoyed by everyone.

The group consists of Cardin, Evan, Spencer and James who come together with a their range of talents to harmonize as one. Cardin joined Asia Entertainment Inc., one of the two largest Vietnamese Production companies outside of Vietnam in 1999. After an initial trial with another group of singers, there was no chemistry and Cardin was asked to form a new group. He recruited Spencer and Evan, who had appeared in the other large production company, Thuy Nga's Paris By Night Video 51 - "We Like to Party" as the group "the Gin-Sen" performing along side singer Tommy Ngo (released Christmas 1999). A few months later, Bill joined the group and just before the video shoot for their debut song "Will You Still" , Asia coined the name "Asia 4" for the group. The video was filmed in the spring of 2000, and the group was introduced to the vast Vietnamese audience around the world outside Vietnam with the release of Asia Video 30 a few months later. Unfortunately, things did not work out with Bill and he was soon replaced by James, who is also Spencer's brother. And from that point on, Asia 4 started to gain the attention of young and old alike with their new performing style and unique songs which were missing from the Vietnamese music industry. They continued to film music videos and records songs for their debut album. There are a lot of talented people out there, but you need a certain chemistry in the group for the group to grow and survive. They produce and perform their own original music ranging from dance hits to heart touching ballads that strikes the soul. These 4 talented guys love to do two things together, sing and perform in front of adoring fans.

The group is always continuing to grow in terms of their music and their stage performance constantly rehearsing to perfect their routines. They work hard to promote their sound to a broader range of audiences by constantly going on concert tours across North America and doing numerous interviews for web or print. And as such, they continue to write new songs and music for future projects. Their first solo album, released August 2001 has been a hit in the Vietnamese and Asian American market with hit songs like "Will You Still", "A Part of You", "Tell Me", "Why Lie to Me" and "I Don't Need Your Love" and "I Never Thought". They are working on their second solo album which will satisfy themselves and their fans musically and artistically.



They have been in 4 music videos to date, starting with Asia Video 30 with "Will You Still"; Asia Video 31 - "I Don't Need Your Love"; Asia Video 32 - "Footprints of Vietnam" (with singer Da Nhat Yen); Asia Video 33 - "A Part of You"; and the latest release, Asia Video 34 - "Tell Me". The guys just finished filming Asia Video 36 in early January 2002 with "Why Lie to Me", which will be released in a few months. They have 2 albums that they produced, the debut: "A Part of You" (released August 2001) and "Merry Merry Christmas" with Trish Thuy Trang (released November 2001), and several compilation albums with other singers in Asia Entertainment. They are set to hit the recording studio full time in the upcoming weeks to work on their highly anticipated second album which will be released this summer. They are very excited about this as the material will definitely surpass the first album in terms of sound, music techniques and style.

They realize that the road to stardom is not an easy one, but their hard work and determination is the key to their success.

Update: Asia 4 decided to go their own separate way. Spencer left for Texas 2 years ago and James opened up 3 more chiropractic offices in San Diego and orange county. Their last video together was released last August 2003. Evan and Cardin had been appearing on videos. But the last video that was released only had Cardin. Cardin's solo site should be out soon.



Picture Gallery || Interview with AsiaFinest.com


Be sure to check out their picture gallery and our interview with Cardin from Asia4. If you have any pictures of Asia 4, please send it to us and we'll credit you for it. Talk about Asia 4 in our friendly discussion forum!