AsiaFinest Beverly Beaumont
---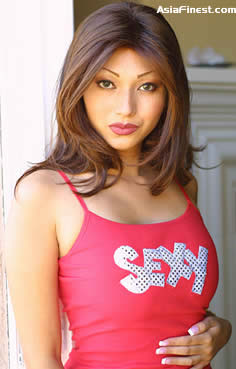 This Asian beauty enjoys new experiences. She particularly enjoys making new friends at the different events she attends. Her nationality consists of a combination of 50% Filipina, 25% Irish and 25% Spanish. This natural blend creates her exotic appearance and stunning 34D-24-34 figure. Born in Manila, Philippines, she arrived to the US at age 3 and was raised by her grandparents in a strict, conservative culture, which helped her become a woman of respectability and class. She currently is aspiring for a degree in Pharmacy. Modeling is "just a hobby" to Miss. Beaumont. She currently works full time at a prestigous hospital in Beverly Hills.

Miss Beaumont has previously worked with such reputable magazines as "Seventeen," "Turbo Magazine," "Import Tuner," "Euro Max Power," and "Max Power." You can find her in almost every car magazine out there. After every major car show Miss. Beaumont attends sheis very much publicized through all the major magazines. What can we say, but the camera and people love her. She can also be seen at numerous web sites such as MyBeverlyBeaumont.com Be on the look out because this vibrant lady can mislead you by having so many different looks. She is the Premiere Spokesmodel for Southbay Motorsports, Spokesmodel for Tri Global Inc., and the official Injen Technology Girl for 2001. You will be able to catch Miss. Beaumont primarily at the events Injen Technology will be attending along with anything Tri Global Inc. will be attending.

She brings class to the IMPORT scene by modeling with grace and charisma. Miss. Beaumont truly is the crowds favorite at all the shows she attends. Her alluring looks and approachable attitude is what makes Miss. Beaumont very popular at the shows. Success in her entertainment career is simply one of the numerous aspirations that this multi-talented individual possesses. Her ability to offer beauty and brains is a product reflecting her background and upbringing. Truly Miss. Beaumont is one of a kind. Written By: Tim Louie


Resume || Picture Gallery || Interview with AsiaFinest.com




Be sure to check out her impressive resume and our interview with her! If you have any pictures of Beverly Beaumont, please send it to us and we'll credit you for it. Talk about Beverly Beaumont in our friendly discussion forum!