AsiaFinest Eydie Anne
---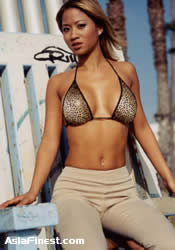 Height: 5'5"
Bust: 32DD
Waist: 23
Hips: 34
Dress: 1
Shoe: 6
Hair: Brown
Eyes: Brown

Eydie Anne was born in Tarzana, California on December 15, 1978. She is Filipina-Hawaiian. Her skills aside from modeling includes: Kickboxing, Hip Hop, Salsa, Yoga, Tennis, and Piano!



Resume || Picture Gallery || Interview with AsiaFinest.com




Be sure to check out her impressive resume and our interview with her! If you have any pictures of Eydie Anne, please send it to us and we'll credit you for it. Talk about Eydie Anne in our friendly discussion forum!