AsiaFinest Linda Tran
---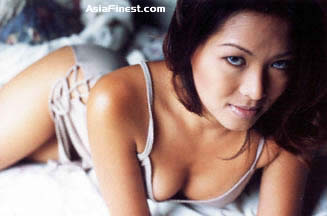 height: 5'7"
weight: 114
hair: dark brown
eyes: brown
bust: 34b
waist: 23
hips: 34
dress: 4
shoe: 8

With her exotic looks and sharp business sense, Linda Tran has climbed the ranks in the glamour industry with her official fan site, in which a fan has quoted, "You have the perfect combination of sex appeal and innocence... You really know what your audience wants and you give it to them full force... I'm impressed that you don't succumb to the dumb-model stereotype and are not afraid to show off your intelligence and wit."

The twenty-year-old Vietnamese/Chinese beauty from Las Vegas, Nevada started modeling two years ago with the launch of her portfolio site, LindaTran.com; she has since worked with over sixty photographers and appeared in numerous runway and print work, trade shows, art galleries and film/television. One of the highlights of her work was landing an overseas assignment in

Ireland; she is also a featured favorite in the erotic movie shorts produced by Videogogo, and has appeared in a Playboy video, calendars, fashion shows and hundreds of websites. Linda continues to model and act on the side, though her top priorities are college (where she is a full-scholarship student at a New York art school) and her new web design company, www.edezignhaus.com. Upon finishing her degree in Spring 2001, Linda plans to manage her company full-time and has already won several awards from the design industry for her multimedia talents (which you can see on all three of her sites).

When not modeling, going to classes or building websites, Linda is a total extreme girl and loves cliff-diving, skydiving, wakeboarding and kickboxing. She is also a travel fanatic and a shopping junkie... On weekends, you'll find her hitting flea markets in the city during the day and sipping her favorite martinis at a SoHo lounge at night.



Resume || Picture Gallery || Interview with AsiaFinest.com


Be sure to check out her impressive resume and our interview with her! If you have any pictures of Linda Tran, please send it to us and we'll credit you for it. Talk about Linda Tran in our friendly discussion forum!