AsiaFinest Marie Serina
---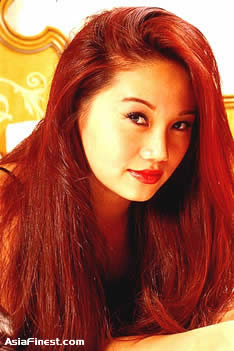 Name: Marie Serina
Birthdate: February 4th, 1982
Birthplace: Manilla, Phillipines
Ethnicity: British Chinese
Location: Southern California
Height: 5'6 & 1/2
Chinese Zodiac: Dog
American Zodiac: Aquarius
Languages: Cantonese, English, Filipino & French

On February 4th, 1982, while her mother was traveling to visit some family and distant friends in the heart of Phillipines (Manila), little Marie Serina was born. Soon after birth, Marie Serina's parents unfortunately divorced and was left in the care of her Aunt and Grandmother in Hong Kong. Raised in a strict and conservative household was a difficult matter for Marie Serina because she always saw herself more the "creative" type. During her early years, Marie Serina attended York Elementary, a privately British owned school where few children were accepted. There she learned to read, write and learn her first native language Cantonese and begin to also have an interest in the arts. Having told her Aunt many times that she wanted to learn how to dance, Marie Serina's Aunt was fortunate enough to send her to private Ballet lessons at the Royal Academy of Ballet throughout her childhood. This was the first time where Marie Serina felt true happiness, being able to perform in front of thousands of audiences starting at the tender age of 2 years old. Growing up to be a young talent for the arts, Marie Serina got her big break when her mother decided to bring her to the United States at the age of 10. Knowingly that this was a chance of a lifetime, yet filled with sadness because she had to leave her beloved Grandmother and Aunt, she left with gratitude and begin a new exciting journey. However, she had yet to find out what life was really like in the United States.

After Marie Serina's arrival to the States, she moved along with her mother and her younger sister to bright and sunny Southern California to begin a new life. There, Marie Serina got her first true taste of freedom when it came to performing. She entered numerous contests and talent shows all over the county and won prestigious awards as a ballet dancer. However, Marie Serina wanted more than just dancing and slowly music took its toll of becoming her next challenge to conquer. This was truly a difficult challenge mostly because Marie Serina did not speak English and therefore was sent to everyday after school tutors who taught her until she quickly became fluent in the language. To be able to sing in the United States and become successful, Marie Serina strived to her best and entered herself into all honor courses in her junior high and high school. Continuing her passion and love for music, Marie Serina joined the Chamber Singers choir in her high school and also actively pursue and maintain her graceful dancing skills in the Royal Regimate of Colorguard as the captain. Also gaining an excessive interest in acting and theatre, Marie Serina joined many productions of her high school's musicals and plays but also enjoyed her academic success in the honors society graduating among the top 2% of the senior class. As graduation drew near, Marie Serina had to seriously make a decision that could change her life dramatically. Marie Serina had to choose whether she wanted to continue dance professionally or go into an entire new atmosphere, which is, Opera. Her decision to pursue Opera was solely based on the short career professional Ballet had to offer and therefore Marie Serina auditioned for several universities/conservatories for acceptance into their Opera training programs.



After reviewing all of the pros and cons of each university Marie Serina was accepted to go into, she finally choose a university close to the Beach, where she enjoys very much the cold breezes and the beautiful environment that the school had provided. She began studying studiously in her academics with a full scholarship given to her as a result of her audition and trained exclusively with a renown Soprano Opera singer, Ms. Shigemi Matsumoto. It was with her, where Marie Serina began to expand her range from a Mezzo to a Mezzo-Soprano. After 2 years of hard training, Marie Serina noticed that she was not completely happy. Often times she wondered if Opera was really the right career path to take. Due to tremendous influences from many professors/Opera critics and friends that she could actively pursue Opera as a professional career by the age of 22, Marie Serina had to ask herself if it was really what she wanted. In the meantime, beside the music aspect of Marie Serina's life, she also felt spiritually dead and fell deep into depression for a long period of time. It was not until a trip back to where she was born, Manilla, Phillipines, when Marie Serina realized that she lacked the most important thing in her life, which was Jesus. She spent numerous nights during the summer of 2000 talking with an old friend who knew the scriptures very well and began to really discover who Christ was. Having denied him many years before, Marie Serina finally made a prayer which dramatically changed her life completely on a cold summer night. Ever since that experience, Marie Serina grew to love the Lord and found an entire new meaning to what life was truly about. Peace, tranquility, joy and happiness was all the things Marie Serina had searched for and couldn't find until she found Christ. As she returned home to the United States and continued her studies, she made a decision which shocked many of her peers and professors. Marie Serina gave up Opera and went on to Business school to study the challenges of how the music industry really works. She knew that if Jesus really wanted her to sing, then it will happen willingly with the Lord's help. From then on, Marie Serina continued studying in Business and French while actively pursuing a music career outside of school.

Nowadays, Marie Serina is still preparing for graduation and finishing her studies in Business and French. Many obstacles have surpassed Marie Serina and until this day she is still trying to pursue the music industry through the ways of the Lord. It should only be a matter of time until Marie Serina will reach her dream and become not only a singer for the world, but also for the Lord.

"I couldn't of done anything without my Lord Jesus Christ, for he has given me patience, love and understanding where I once lacked before. I love him very much with my heart, body and soul..." (Marie Serina).



Picture Gallery || Interview with AsiaFinest.com || Resume


Be sure to check out her impressive resume and our interview with her! If you have any pictures of Marie Serina, please send it to us and we'll credit you for it. Talk about Marie Serina in our friendly discussion forum!