AsiaFinest Shayla
---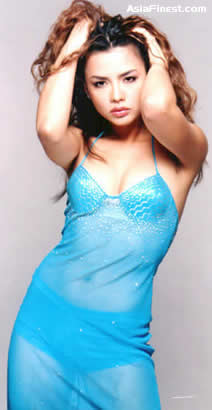 Shayla Chau Dinh was born destine to be an entertainer. She is the offspring of Thanh Tuyen, one of Vietnam's premiere singer in the 60's and 70's. Her aunt is Son Tuyen, who in recent years has also become a well known name in the Vietnamese industry. Being from a family of such musical talents, it's of little surprise that Shayla has been groomed to be the next generation of artist from this lineage. Born in Saigon, Vietnam, she was just an infant when her family came to the United States and settled in Houston, Texas.

Shayla's first stage experience was in a fourth grade talent showcase. She convinced her best friend to accompany her on the piano while she took the stage and sang the theme to Rocky "Eye of the Tiger." Shayla later joined her school's choir and has been involved with music ever since.

Shayla sky-rocketed to the top after her appearance on Asia 13 with the performance of "Be My Lover." She then released her first solo record album entitled "Dance Music," which went on to become a hit record.

Her second album, produced by talented hit-maker songwriters Sy Dan and Truc Ho churned out another hit including the self-titled "Days and Nights of Missing You,". This song is where Shayla ventures into songwriting. With Truc Ho's beautiful melodies, Shayla got a chance to put her lyrics down on paper for the world to hear.

"Funktify", her third album. You see her creative side shine. She produce her album and also wrote most of the lyrics you hear including "My only regret", "Autumn Night" and "Sea of Tears." "It was so much fun doing this album, because I got to express my feelings, and my fans got to see a little bit of who I am."

| | |
| --- | --- |
| On her fourth album, she got an opportunity to collaborate with award winning producers Maurice Starr to create "Only In My Dreams". The album consist of original songs including a duet she sang with her mom entitled "Open up your heart" and a duet with Filipino superstar Martin Nievero. | Purchase Now |
Shayla loves to read and write. Her other favorite activities includes playing with her two American Eskimo, watching the latest hit movie, and cooking for her friends and family. She says someday she would like to settle down, get married, and have a family. But until that day comes, she says she is very happy and content in just making music. "I feel so bless and grateful for my life. I always feel like the luckiest girl on earth, and I Thank God everyday."



Picture Gallery || Interview with AsiaFinest.com


Be sure to check out the picture gallery and our interview with Shayla! If you have any pictures of Shayla, please send it to us and we'll credit you for it. Talk about Shayla in our friendly discussion forum!