AsiaFinest Eriko Imai elly
---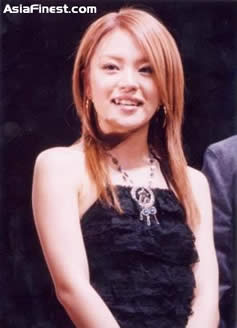 Name: Eriko Imai
Nick name: Mikan Sei-Jin (Tangerine Alien)
Place / date of birth : Okinawa / September 22, 1983
Star sign: Virgo
Height: 156 cm
Blood type : O
Charm: Hair, eyes
Talent: Japanese calligraphy, running short distance & play guitar
Hobbies: Collect English CD, playing guitar & dance
Siblings: One older brother and one older sister
Idol: Glay, TLC, Mariah Carey, Yutaka Takenouchi
Fear: Thieves , robbers
Subjects good at: PE, Language, English
Subjects bad at: Economic, Math
Things that want to try : Composing a song
Things that have to be in her bag : A mirror, toothpicks, a wallet, a facial wash foam and a handkercheif
If herself describe as an animal : A white rabbit
Bad habits: Biting her fingernails
Most treasured Item : Her family and the person she likes
Favorites
Color: Blue, white & black
Country : France
Food: Tangerine, strawberry, grapes, plum, fish, & pudding
Sport: Running short distance & basketball
Song by Speed : I Remember, Steady
Phrase: "Maimuki" Look ahead
Guy: Happy, talkative, not lazy
Dislikes
Food: Celery, pork, tofu
People: Conceded people



Eriko was one of the lead singer in the popular JPOP group SPEED. She is very talented in singing. After the group disband in March 31, 2000, she went on to continue her singing career.

When Imai began her solo career in 2000, she merged with the dance group Crunch and the group was newly dubbed Eriko with Crunch. Their first two maxi singles, "Red Beat of My Life" and "Luv is Magic," were released the same year. Imai's style of music is rockish pop, which suits her voice, but she also sang ballads and slow numbers as well, and even attempted rapping in "Don't Stop the Music".

Eriko with Crunch did not last long. She went on without them pursuing her solo career under her own name. She released her third single "In the name of Love" also in 2000. To date, Eriko as a soloist has released 6 singles, 1 album and a best album.

She has appeared in theater, film, radio and other parts of the entertainment industry. In 2001, she was awarded the Golden Arrow Award for Best Newcomer in Theater. This award was for her role in the musical Hi no tori. Imai has also lent her voice to one of the anime characters in Boku No Songoku in 2003, with her self-written single, "Butterfly" as the main theme song of that movie. She also starred in the hit movies Onmyoji in 2001 and Onmyoji 2 in 2003.

In April 2004 she married Shogo, lead vocalist of punk band 175R in a shotgun wedding, their son, Raimu, was born on October 18, 2004 weighing 3492g. On November 25 2004, Eriko released her Single Collection ~Stairway~ to mark her new life journey as a mother and wife and as a gift for all Eriko fans around the world.

On June 9, 2005, Eriko announced on her new website that she will return to the music industry as elly. She will try to compose and write her own songs as well


Pictures Gallery || Eriko's Products



If you have any pictures of Eriko Imai, please send it to us and we'll credit you for it. Talk about Eriko Imai in our friendly discussion forum!