AsiaFinest Shimabukoro Hiroko (Hiro)
---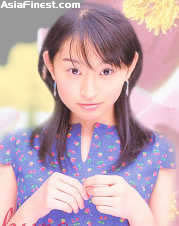 Shimabukoro Hiroko
Nickname: Uchuu-jin
Birthday: April 7, 1984
Sign: Aries
Birth Place: Okinawa, Japan
Height: 161cm
Weight: 41kg
Blood Type: A
Charm: Dimples
Hobbies: Listen to TLC
Talent: Bake Cake
Fear: Spirits, her mom when she's angry
Subject good at : Home economic
Subject bad at : Math
Things that want to try : Make a huge cake
Things that have to be in her bag : A wallet, a handkerchief, a lipstick, deodorant
If herself describe as an animal : "People say i look like a raccon, or a chik, but i think i look like a tamagochi"
Bad habits : Tendency to cry
Most treasure item : Photo collection
Favorite Sport: Basketball
Favorite Color: White & orange


Favorite Food: Fruits, Shrimp, Lobster
Favorite Songs by Speed: I Remember
Favorite Idol: TLC
Favorite Phrase : "Jinshin" self confidence
Favorite Guy : Someone she likes, with self-confidence, deep thinker typle
Dislikes
People : Bad personality, selfish
Food : Celery, pickle

Hiroko was the lead singer in the group SPEED. She is very talented in singing and dancing. She is the youngest and cutest out of the four. After the group disband in March 31, 2000, she went on to continue her singing career. She will be known as "Hiro".

her solo debut single "AS TIME GOES BY" topped the Oricon charts at the #2 position. Her two full albums to date, BRILLIANT and Naked and True, both secured a spot at #2 on Oricon as well. She has won three consecutive awards in the Japan Record Awards for "Treasure" (2000), "Your innocence" (2001), and "Eternal Place" (2002).

In terms of CD sales, hiro is the most popular amongst the four SPEED members. This was also shown by Avex choosing to send her to perform in the United States at Seattle's Sakura-con in April 2004. Her songs range from soothing ballads to quick, catchy songs with fine-tuned dance choreographies.



Pictures Gallery || Hiro's Products


If you have any pictures of Hiro, please send it to us and we'll credit you for it. Talk about Hiro in our friendly discussion forum!