AsiaFinest Namie Amuro
---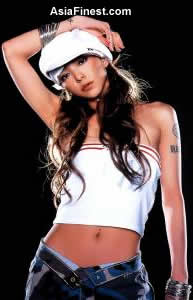 English name: Namie Amuro
Date of birth: September 20, 1977
Height: 5' 2 " / 158cm
Weight: 88lbs / 40 kg.
Blood Type: O
Measurements: 30":23":33.5" / 75cm:59cm:85cm
Birth Place: Okinawa, Japan
Ethnicity: 75% Japanese, 25% Italian

At the age of 15, Amuro, along with a group of classmates, formed the pop group known as the Super Monkeys. Although moderately successful in their home prefecture, Okinawa, a move to Tokyo (presumably at the behest of their record label, Toshiba EMI) garnered more exposure for the Super Monkeys, and Namie in particular, so much that the group came to be known as 'Namie Amuro with Super Monkeys'. Namie soon embarked on a solo career, in the process moving from Toshiba EMI to the avex trax label (also home of popular Japanese acts such as Ayumi Hamasaki, BoA, Do As Infinity and Every Little Thing). The remaining Supermonkeys regrouped, renamed themselves MAX, and became a successful group in their own right.

Amuro exploded onto the Japanese music scene with Body Feels EXIT, with the aid of legendary Japanese producer Tetsuya Komuro. From then, every single Tetsuya Komuro produced for Amuro became a major hit ranking high on the charts. During her most successful time during the 90s, she won the hearts of the teenage girls, inspiring them with her style. The girls had brown-reddish hair or highlights, very thin eye brows and wore assorted make-up. They also wore short skirts and knee-high boots, which was the symbol of Amuro, and were called Amuras.

In 1996 she became the youngest artist in history to be awarded the Japan Record Awards Committee's Best Artist Prize with sales totals for CDs climbing over a total of 10 million copies in a single year. She also won the same award in 1997 and also the best single award for Can You Celebrate at the 39th Japan Record Awards.

In late 1997, she held a press conference announcing her marriage to TRF member, Masaharu Maruyama (SAM) and her pregnancy. She ended the year with her last performance on the annual Kohaku Uta Gassen special. On May 19, 1998, she gave birth to her only child, Haruto. On December 23 of the same year, she released her comeback single I HAVE NEVER SEEN which debuted at #1.

In 1999, she started working with American producer Dallas Austin. Her work with the producer brought a harder R&B style to her music. However, 1999 was a painful year for Namie; during the promotion of the single RESPECT the POWER OF LOVE, her mother (who was remarried) was brutally murdered by her mother's mentally unstable brother-in-law. In July of 2000, she released the single "NEVER END" which she performed in front of several world leaders including then president Bill Clinton at the G8 Summit. In 2001, Namie and her producer, Tetsuya Komuro ended their working relationship after the release of her 4th original studio album, "break the rules." She released "Say the word" on August 8 the same year, which she for the first time, wrote the lyrics for. At the end of that year, as part of avex's SongNation project, which was Tetsuya Komuro's nonprofit charity project to raise money for the victims of 9/11, she collaborated with the rapper VERBAL of m-flo for the song "lovin' it," which was released as the last of the three collaboration singles (the others being "A song is born" (Ayumi Hamasaki and KEIKO of globe) and "Meaning of Peace" (Kumi Koda and BoA)).

In 2002, Namie fully immersed herself into the Japanese R&B scene releasing music under the pseudonym, SUITE CHIC. Under the SUITE CHIC project she collaborated with several of Japan's popular hip hop and R&B artists. They released two singles, an original album and one remix album before ending the project in 2003.



Namie returned to solo activities on her own in 2003 with the single "shine more." The subsequent singles "Put 'Em Up" and "SO CRAZY" were produced by American R&B producers Dallas Austin and Full Force respectively. At the end of the year, she released her first original album in three years "STYLE." From November 29, 2003 to May 15, 2004 she performed throughout Asia on the "Namie Amuro SO CRAZY" tour featuring BEST singles 2003-2004, where she wrapped it up with 3 concerts in Seoul, South Korea and Taipei, Taiwan. She was the first major Japanese artist to hold a concert in South Korea after the normalization of cultural relations. Shortly following the tour, she released the ballad "ALL FOR YOU." The song peaked at #6, but sold double the amount of her last single. In late August, she went on a private fan club tour focusing on the songs from her latest album which were not performed on her current public tour. She also unveiled two new songs on the tour "GIRL TALK" and "the SPEED STAR" which would be released the next month as a double a-side single. When it was released the song charted at #1 on the Oricon daily chart for three days. It was the first time any of her singles had placed #1 in 5 years. The song ultimately placed #2 for the week and repeated the sales success of her previous single.

At the end of the year, Namie shocked fans by choosing to not appear on Kohaku Uta Gassen. Her decision to decline the offer also surprised critics, who actually felt she had at least earned her right to perform at the event that year. She had previously attended the coveted event nine years in a row. Following the tsunami disaster in Southeast Asia, Namie participated as the only Japanese representative at MTV Asia Aid. She secretly donated approximately 90,000 USD to UNICEF for children who were affected by the disaster. In January, Namie surprised fans again when a new song popped up in a Suzuki Chevrolet commercial. The new song entitled "Queen of Hip-Pop" was assumed to be her next single until in April, she released the song "WANT ME, WANT ME." An overtly sexual song, it received harsh criticism from Western listeners of Japanese music. However, the song was a well received hit at home debuting at #2 and charting with her highest debut sales peak in 3 years.

In May, Namie had both professional and personal gains. Following a three year split from her former husband SAM, she took back full custody of their child, Haruto. They had previously agreed that SAM would be the child's sole guardian. At the end of the month, she performed at the MTV Japan Video Music Awards for the fourth consecutive year in a row and this year, clinched two awards. She took home the award for "Best R&B Video" as well as a special award for most impressive performance in Asia. Between these two events, she announced the release of her sixth original studio album entitled, "Queen of Hip-Pop".

In collaboration with MGM Studios, Namie has licensed for the use of the Pink Panther character to be used in conjunction with the album. A female panther counterpart has been created in her image for the album as well. There seems to be no connection with the usage of the Pink Panther and the possible Japanese release of the American remake. Upon release, the album charted at #2. The album has since become her best selling album in 5 years, eclipsing the sales of her three previous albums. In September, Namie kicked off her 7th national public tour entitled, "Space of Hip-Pop."

Shortly after the start of her tour, it was announced that she would contribute to the Japanese theaterical release of the American motion picture adaptation of "Sin City." After viewing the movie, Namie made an offer to the Japanese distribution company to sing the theme song to the movie. The company felt that her image fit the movie and accepted her offer. When director Robert Rodriguez heard Namie's contribution to "Sin City" he asked to be a part of it, amazed at how well it fit the movie. He can be heard saying "Welcome to Sin City" at the start of it. The song entitled, "Violet Sauce" is about love and violence and was used as the theme song for the Japanese release of "Sin City". Currently, Namie is popping up in homes across the nation in animated ads for Lucido-L hair wax products. Her latest single, "White Light/Violet Sauce", was released on November 16 and is the first single for her upcoming album.


| | |
| --- | --- |
| We highly recommend you get Name Amuro's Queen of Hip-Pop album. Finally pleasing her fans with a new full-length LP, Namie Amuro returns with all together 12 power tracks on this electrifying First Press Edition. Her last release STYLE hit the album shelves in December 2003 and now after a successful warm up with her recent teaser single Want Me,Want Me, she blesses all music lovers with more absorbing melodies including Free, Alarm, and WoWa. Among the highly recommendable tracks is also her dynamic title song Queen of Hip-Pop that is brimming with dance beats. With so much top material to back her up, Amuro no doubt is as ready as ever to supply the J-pop market with even more red hot summer hits! | Click to Purchase |



Namie Amuro's Picture Gallery || Namie Amuro's Products


If you have any pictures of Namie Amuro, please send it to us and we'll credit you for it. Talk about Namie Amuro in our friendly discussion forum!