AsiaFinest Se7en Seven
---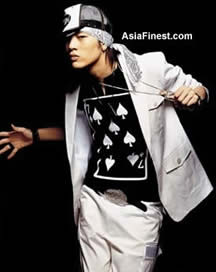 Name: Choi Dong Wook
Birthday: 11/09/84
Blood Type: B
Height: 180 CM
Weight: 64kg
Nickname: Seven Eleven
Family: Grandmother, parents, 2 older sisters
Hobbies: music
Expertise: Singing, dancing, rapping.
Favouite Sport: basketball, snowboard, swimming
Religion: Christian
Fav. Musician: Usher, Justin Timberlake, Alicia Keys, Dru Hill
Color: Black and White
Ideal Girlfriend: More than looks, he like personality. A girl who respects others and is caring.
Treasures: Collection of 1000 CDS.
Dream Stage: Hwae Eh Moo Dae.
Future Goal: change the world with my music
Motto: "Always be humble, have the best Dreams"

Seven aka Se7en, is a very talented k-pop dancer and singer in Korea. He started training under the management agency YG Family at the age of 15. After 4 years of intense training in both singing and dancing, Seven made debut in the local pop music scene in 2003 as the first R&B singer of YG Family led by a former Taiji Boys member Yang Hyun-seok. His first album was called, "Seven vol.1 - Just Listen..."The title song of Seven's debut album "Please, Come to Me" is an R&B ballad number with upbeat melodies that received great response from pop music lovers. The record company is confident enough to compare nineteen-year-young newcomer Seven to the marvelous talents of Usher and Justin Timberlake! The hot talent made his debut at the CF of jeans with Jang Dong Gun and Lee Dong Wook and due to his fabulous singing & dancing skills as well as his good-looks is highly expected to turn into the next multi R&B singer! Wheesung, Perry and Lexy also joined the works for this debut masterpiece.



Seven's second album called "Seven vol.2 - Must Listen", was released in July, 2004. It was ranked on top of the charts proving that Seven has become one of the great stars in the K-pop scene. This time around he teamed-up with professional dancers who were earlier engaged in assignments for Janet Jackson and Justin Timberlake. Rumour has it that Se7en and his staff were haunted by a ghost during the recording sessions. Decide for yourselves whether there is any truth to the said occurrence, while you are listening to Se7en's 2nd album.

Seven was awarded the Best Rookie prize in SBS Music Awards in 2003. He was included among the top 10 artists of the year in 2004 by MBC. Be sure to keep an eye out for this kpop star to grow in popularity.



Se7en's picture gallery || Se7en's Products


If you have any pictures of Se7en, please send it to us and we'll credit you for it. Talk about Se7en in our friendly discussion forum!