AsiaFinest T Tasha
---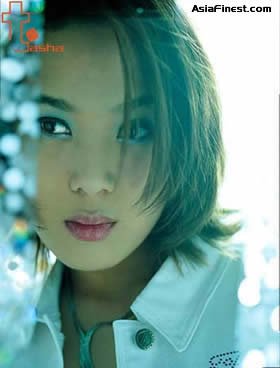 English name: Natasha Shanta Reid
Korean Name: Yoon Mi Rae
Nickname: Baby Tasha
Date of birth: 05/31/1981
Birthplace: Texas
Blood Type: AB
Religion: Christianity
Character: Liveliness but shy
School: Seoul American School
Favorite Music Style: R & B, Hip Hop
Favorite Artist: Da Brat and Eryka Badu, Roots and Bahamadia
Person whom she respects: Father
Happiness Moment,: The first time at sound recording.
Favorite Animal: Puppy
Favorite Place: Virgin Island
Favorite Food: Thay li Cooking
Charm point: Eye
Skills: Piano


When I first sample a few of T's songs from her new album, I couldn't believe what I was hearing. I was in awe of the way she was rapping lyrically, and the style of the songs! Most of her songs contain both English and Korean verse, so even if you're not Korean, you'll have a sense of what the song is about. I did a search online, and found out that they are no sites that featured her besides her recording company smtown. I wasn't going to let a beautiful and talented lady like T go unnoticed. So I decided to be the FIRST site to feature her in English (maybe the first site to feature her at all, since I didn't find any Korean one!). Above is a rough translation of her profile that was in Korean. "Lyrically, I'm too ill, with no cure, I stay sick" - Tasha, I definitely agree! - Ben of AsiaFinest.com

T- Gemini Album Review



Her cheerful walk has begun. With her first solo album as T, Yoon Mi Rae has proven herself as a great R&B singer. (She was previously in a hip-hop group Uptown and Tashani.) She has done a great job of loosening up her image a little bit from the extreme strong to somewhat softer. But if you are among T's fans, you must have missed her rap. She must have missed it as well, since rap is her favorite genre. With this new album [Gemini], she enjoys another change.

As a matter of fact, it is hard to find a female artist with such strong self image and color. Most of the female artists these days are quite busy in trying to show all of themselves. They have to be funny, pretty, and also must be able to act as well. T may lack some of these factors, but she definitely has her color and her style is nothing to be compared by. This may be the reason why her fans love her. [Gemini] is the title of her new album. 'Gemini' is twin goddesses in Greek Myths, who are extreme opposites of each other. In another words, T is able to show and perfect herself in both R&B and hip-hop. Park Keun Tae, a producer who has succeeded in giving T the soft and relaxed image with her first album, has produced this second album as well. Tiger J.K. of Drunken Tiger and T were the co-producers of the album. This album has great hip-hop guest artists such as Drunken Tiger, CB Mass, Annie of Tashani, and Bobby Kim. This album seems as if this is a compilation album of hip-hop. Combinations of many sub-genres of hip-hop are giving both the freedom and relaxation to the listeners. The completeness of this album once again proves that T has done a great job of changing her image. An English version of this album is to be released in Japan by fall of this year.

In the album [Gemini], T swims freely in her world of hip-hop. Beginning with a phrase by a grandma, "Jul Meun Yi Deul No Ohl Ja~ Assa!", T starts "G Hwa Ja" with her powerful voice. "Meditation" is produced by Calvin of CB Mass. "Me We" has a sampling of "Unforgettable" by Nat King Cole. "Memories" is produced by Park Keun Tae. Both songs have strong string sessions. Bobby Kim and T rap verse by verse in "Kkeut Up Neun Ba Da Juh Pyun Eh". "Concrete Jungle" has a female guest vocal, which adds softness to the album. "Combination Platter" and "Double Trouble" are somewhat unique. "Combination Platter" is produced by DJ Hasebe. "Double Trouble" has a guest group named Double of Japan. (Both DJ Hasebe and Double are extremely famous in Japan.) Out of all of the songs in this album, the song with the strongest hip-hop tone would be "Wonder Women" produced by Tiger J.K. Annie of Tashani has performed along T in "Nam Ja, Nam Ja, Nam Ja". This song is composed by Bobby Kim. "MT (Hyuk Myung) is the last song of the album where T shows off her powerful voice.

This album is a perfect tool to show off her talent. Hip-hop being her favorite genre and her first album's success have proven a lot. On top of that, the great combinations of sub-genres have done a good job in showing the "two sides" of Gemini. Purchase Gemini now!


T's picture gallery || T's Products


If you have any pictures of T, please send it to us and we'll credit you for it. Talk about T in our friendly discussion forum!