AsiaFinest Vy Nguyen
---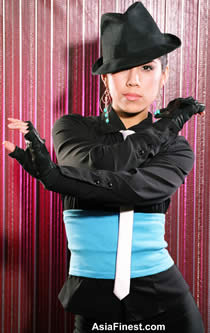 Full Name: Vy Thuy Nguyen
Nicknames: Stevie, V-nugget, Veebles
Birthday: April 6
Birth Place: Olympia, WA
Height: 5'3
Education: Bachelors degree in English Literature
Favorite Sport: Gymnastics
Hobbies: Dancing and sleeping

Vy Nguyen is a rising star in the Vietnamese entertainment industry. Her popularity is growing daily, and that is no surprise with her talented skills in dancing and singing. All her songs are written by Vy herself. To go along with all her skills, she has a friendly and upbeat personality that appeals to everyone. Be sure to check out her picture gallery and our interview with Vy!



Vy Nguyen's picture gallery || Interview with AsiaFinest.com




If you have any pictures of Vy Nguyen, please send it to us and we'll credit you for it. Talk about Vy Nguyen in our friendly discussion forum!