AsiaFinest Mighty Crown
---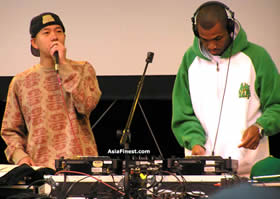 English name: Mighty Crown aka The Far East Rulaz
Mighty Crown Members: Cojie(Selector), Sami-T(Selector/MC), Masta Simon (MC/Owner), Super-G(Selector/MC), and Ninja(Selector/MC)

As a local and based in Yokohama, they are the Dancehall Reggae Sound that are active in America, Carribian Islands and Europe. Since forming, this year (2006)will be their 15th anniversary. The experience that they cultivated and their high level of consciousness in tend to rise to a higher level gives them the popularity and their movement always gives a big impact on the Scene. Their performance attracts not only reggae fans but has a certain message and talent that attract first timers and fans all around the world along with the Japanese supports.

Mighty Crown was founded in 1991 by friends from Yokohama, Japan. Mighty Crown gradually got their fame by playing at clubs and by selling self-produced mix tapes throughout Japan. After building their sound system(movable speaker boxes) in 1994, they started clashing with other Japanese sound systems and became the undisputed and undefeated sound clash champion in Japan (1998). Since then, they have been influencing and leading the whole dancehall scene in Japan.



Japan was not the only place they have been playing. From the first day they have started playing sound, Masta Simon and Sami-T, and other members of Mighty Crown always had a bigger aim, which was to bust their sound in foreign. They started living in the United States from the early 90's and gradually learned the Jamaican language and the dancehall flex by hanging out in studios, record shops, and in the streets of Brooklyn, NY. They started playing at local clubs in Brooklyn and Manhattan around 1992 and eventually lead their way to the World Clash '99 held in Brooklyn, NY. On their first appearance in World Clash'99, they defeated sounds from Jamaica and the United States and became the first Japanese sound to get the World Clash trophy. Since then, they have been touring major cities in the United States (New York, Miami, Tampa, Orlando, Atlanta, Houston, Boston, Washington DC, Virginia, Conneticutt, New Jersey, and etc.), the Caribbean (Jamaica, Antigua, Bermuda, Trinidad and Tobago, St. Lucia, Barbados, St Kitts, and etc), and Europe ( England, Germany, Switzerland, and etc.) . Starting in year 2000, Mighty Crown teams up with Irish & Chin ENT and strengthens their works International wise.

Today, Mighty Crown has become the household name not only in Japan but throughout the dancehall scene worldwide. They have been promoting reggae music in Japan in different type of forms. They have been playing on radio show every Saturday, clubs, concerts, appearing on TV shows, establishing their own record label named "Lifestyle Records," promoting dances, producing a clothing line called "Nine Rulaz," and establishing a Japanese dancehall free paper magazine called, "Strive."

Mighty Crown is one of the sounds to prove to the world that reggae music is an international music. The music for the people worldwide. Mighty Crown has become very influential to the reggae scene due to their talent, ability, love, and devotion to the reggae music.



Mighty Crown's Picture Gallery || Mighty Crown's Videos || Mighty Crown's Products


If you have any pictures of Mighty Crown, please send it to us and we'll credit you for it. Talk about Mighty Crown in our friendly discussion forum!