AsiaFinest Siti Nurhaliza
---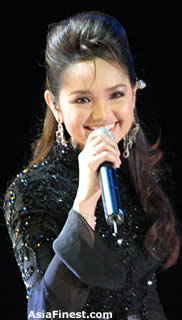 Full Name: Siti Nurhaliza binti Taruddin
Birthdate: January 11th, 1979
Birthplace: Kampung Awah, Temerloh, Pahang, Malaysia
Height: 163 cm
Weight: Between 45 - 50kg
Also Known As: CT, Nurhaliza, Siti
Hobbies: Watching VCDs, singing, reading, cooking
Favourite Colours: Green, pastel colours
Favourite Dishes: Malaysian, Thai and Mom's dishes
Favourite Drinks: Hot drinks
Favourite Music: Pop, Alternative, R&B, Ethnic
Favourite Artistes: P.Ramlee, Ziana Zain, Sudirman, Celine Dion
Favourite Music: All types of music
Best things I like to do: Shopping, playing with kids, spending time alone in my room
Things I hate: When forced to so something, judging a person without prior investigations

Siti Nurhaliza was born in Berek Polis Kg. Awah, Temerloh, Pahang, Malaysia, to father Tarudin bin Ismail, a policeman, and mother, Siti Salmah Bachik, a housewife. Initially, Siti was labeled a tomboy because of her active attitude and her tendency toward boyish appearance. When Siti was young, she wanted to be a policeman like her father. As she began to attend Sekolah Rendah Kebangsaan Clifford, she took on a more feminine appearance; and her mother's grooming shaped her into a well-behaved and elegant Malay girl. In her school-year, she's had involved in many various school activity especially sports and speeches, that made her one of the most successful students in her school.

Siti is the fifth child in the family of of eight siblings. She came from a musically inclined family. Her grandfather a famous violinist, her mother a traditional singer famous in Pahang, her brother and almost all in the family can sing. It's her uncle, a former singer for a local band who influenced her the most. At a tender age of 5, her parents approved of her to follow her uncle to invitational shows like wedding ceremonies and dinner parties to give her exposure performing live and she was well received by the local community in Kuala Lipis and as far as Kuantan. When children her age plays with dolls, she was determined memorizing lyrics and practicing to follow her uncle to shows as long as she could sing.

Siti Nurhaliza's family performed at many local ceremonies at their hometown, such as weddings. At the age of twelve, Siti began to learn traditional songs from her mother. Later, as she continued to work on her singing, she participated in numerous local singing competitions. She won the Merdeka Day Singing Contest in 1991 and the another contest during the Karnival Lipis. At 16, she competed in the 1995 RTM Juara Bintang competition. While there, she met Adnan Abu Hassan, a locally-famous composer. He tutored her and helped her with her vocal performance, thereby helping her to win the contest. After that, she was granted a contract with Suria Records, where Adnan worked, and in 1996 released her first album, Siti Nurhaliza. Making her first album was a challenge because she had to balance working on her album while preparing for and taking the SPM examination. Despite this, her first album was a great success, and this would pave the way for her extremely successful future albums.



After her first album, Siti Nurhaliza became a well-known figure in Malay pop culture. She continued to have numerous hits, her songs spanning a broad range of genres, such as pop, R & B, and traditional Malay. Her voice and lyrics proved popular with teenagers throughout Malaysia. Thanks to this, she dominated national award shows for years.

In the second 'self-titled' album, 'Aku Cinta Padamu' shoots her to stardom in the year 1997. This catchy song was so good that it penetrated the demanding Indonesian market for the first time and was well received by the music lovers there. A feat, that only a handful of Malaysian artistes were capable of doing. She was then invited the same year to perform a special one-hour show for a television station there. This move made Siti even more popular in this region.

Siti's increasing popularity meant that demand for her endorsement is high. She sung themes for movies ( i.e Puteri Gunung Ledang )and corporate jingle for Maxis. She has also been featured in various advertisements and become spokewoman to many well-established brands such as Maxis, Maybelline, PEPSI, Jusco, TMnet,Konica Minolta, Nippon Wiper Blade, Olay skin care, and Samsung. The list of her endorsements keep increasing from year to year. For her successes at her young age, Puteri Umno named her Teen Princess of Malaysia in 2002.



Siti Nurhaliza's Picture Gallery


If you have any pictures of Siti Nurhaliza, please send it to us and we'll credit you for it. Talk about Siti Nurhaliza in our friendly discussion forum!