Bruno Mars Roseland Ballroom NY Concert Review
---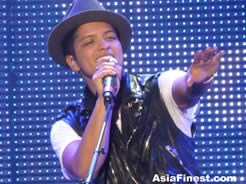 May 4th , 2011. The popular Bruno Mars performed to a sold out concert at the Roseland Ballroom located in New York. It was part of his Hooligans in Wondaland tour throughout the United States and AsiaFinest was on hand to cover this great event!

Bruno Mars went on the road this spring with Janelle Monae for a co-headlining, North-American The Hooligans in Wondaland Tour. The sold out concert kicked of with a British singer / rapper Plan B. Plan B is popular in the UK, but not so much here in New York as most of the people in attendance did not know who he was. Plan B performed a few quick numbers including "Stay Too Long" and "She Say", as well as a nice remix of "Stand By Me" and Seal's "Kissed By a Rose" with a beatboxer.



Janelle Monae was the next performer up. Janelle performed the majority of material from her current album, "The ArchAndroid", and a few tracks from her debut "Metropolis: Suite 1 (The Chase)". It was a pleasure seeing her perform live as she showcased each song with a ton of energy. The audience loved her so much that she had a two song encore! Her music mixed well with Bruno Mars' style, and was a perfect lead up to his performance. The only problem was that after Janelle finished her set, there was a hour long wait before Bruno Mars stepped on stage. To make matters worse, the opening acts took about two hours and this was a standing room only event.

The audience went nuts when Bruno Mars finally stepped on stage! He made good use of the background with a wall of light backdrop behind him that showed various pictures, backgrounds, and live concert videos. Bruno pretty much sang his entire awesome album and other songs that he wrote, which included Billionaire, Beautiful Girl, and of course all the fan favorites like Grenade, Just The Way You Are, Lazy Sunday, etc.. Like true hardcore fans, the entire audience knew all the lyrics and sang along with each and every song. The ladies would go crazy each time he did a hip thrust! He interacted with the audience pretty well, encouraging different area of the crowd to a sing off, and serenading one lucky female fan. Bruno Mars ended the night with a final encore of "Talking to the Moon".

Bruno Mars's concert gave everyone their money's worth. The tickets was relatively cheap for a sold out concert. Online ticker brokers was selling the Bruno Mars tickets for around $60-70 each as compared to $300+ a ticket for Britney Spears or Lady Gaga. Fans who love Bruno Mars' music definitely needs to see him perform live. It's a totally different experience that should not be missed with fellow Bruno Mars' fans.

Review written by Ben Li of AsiaFinest.com.


Bruno Mars Concert Pictures || Bruno Mars Products

If you have any pictures from this event, please send it to us and we'll credit you for it. Talk about this event in our friendly discussion forum! Be sure to check out our other reviews. Write an Asian related article, and get it read by thousands of people daily. Get credit for it. Click here for more details on submitting an article to us.