Empires Collide Olympic Boxing China vs USA
---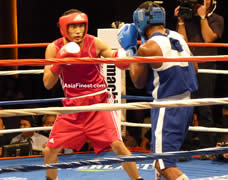 On October 1st, 2010 Empires Collide brought the national boxing teams from USA and China together for one exciting night of 11 bouts of action. The boxing event was held at Capitale in New York City. Ticket prices ranged from $25 to $200. It was a rare opportunity for people in NY to see China's national team in action live. The location was great for Chinese audience as it was held in Chinatown which is a first for a huge boxing event.

1984 Olympic bronze medalist and former professional heavyweight world champion, Evander Holyfield, and 1984 Olympic Champion and New York native Mark Breland was there to talk to the teams as well as give out the final awards. AsiaFinest.com was there to cover all of the action. Be sure to check out our pictures and videos of all the boxing action at Empires Collide!

All men's bouts were three rounds apiece, three minutes per rounds. All female's bouts were four rounds apiece, two minutes per round.

Team USA vs. Team China Boxing Fight Results

1) 112 lbs / Female: Cancan Ren, China, wins by decision over Tyrieshia Douglas, Baltimore, MD/USA. with a score of 21-10

2) 123 lbs: Jiawel Zhang, China, stopped Ricky Rodriguez, Greeley, Colo./USA., RSC-2

3) 132 lbs / Female: Patricia Manuel, Commerce, Calif./USA, wins by decision over Cheng Dong, China, with a score of 11-10

4) 132 lbs: Eric Flores, Ingle, Calif./USA, wins by decision over Qing Hu, China, with a score of 2-1 (tie-breaker after 9-9)

5) 141 lbs: Michael Reed, Waldorf, Calif./USA, wins by decision over Bilige Huricha, China, with a score of 18-15



6) 152 lbs: Qiong Maimaitit, China, wins by decision over Alex Martin, Crest Hill, Ill./USA., with a score of 14-6

7) 165 lbs/Female: Alyssa DeFazio, Phoenix, Ariz./USA., wins by decision over Jinzi Li, China, with a score of 7-6 (tiebreaker after 15-15)

8) 165 lbs: Jesse Hart, Philadelphia, Pa./USA, wins by decision over Jianting Zhang, China, with a score of 15-7

9) 178 lbs: Fanlong Meng, China, wins by decision over Marquice Weston, Tacoma, Wash./USA with a score of 18-2

10) 108 lbs: Zou Shiming, China, wins by decision over Santos Vasquez, Reno, Nev./USA with a score of 15-2

11) 201+ lbs: Zhilei Zhang, China, wins by decision over Danny Kelly, Washington DC/USA with a score of 16-8

Empires Collide Boxing Summary
Empires Collide started the night off with the introduction of all the members from each national team along with Evander Holyfield and Mark Breland. The national anthems from both countries was then sang. The crowd at Capitale was mostly pro China, probably because Capitale is located in Chinatown of New York. During a lot of the heated matches, you'll hear the majority of the audience chant "Ga Yao!" which is Cantonese and roughly translate into "give it your all". The supporters for Team USA would counter with chants of "USA! USA!" Halfway through the night, a lion dance performance was given in the boxing ring. China won the first two rounds easily especially with the referee stopping the fight between Jiawel Zhang Vs Ricky Rodriguez. Jiawel Zhang of China was the only one to win during the event without having to go to decision by the judges. The USA came storming back to take a lead by 5-3 after the 8th match. Fanlong Meng of China dominated Marquice Weston easily in the 9th round. Empires Collide must have decided to save the best for last as the two Chinese Olympic medalists closed the event with victories for Team China. The 2008 Olympic Champion Zou Shiming won a 15-2 decision over Santos Vasquez while 2008 Olympic silver medalist Zhilei Zhang claimed a 16-8 victory over Danny Kelly. China came out winning 6-5 for the night leaving many Team China fans leaving happy. Overall it was a fun and entertaining night with some great action from both teams. It was a great chance for everyone including the national teams to see where there are in preparation for the Olympics 2012 in London. Even people who were not boxing fans left the event looking forward to the Olympic boxing games in 2012.

Review written by Ben Li of AsiaFinest.com.


Empires Collide Boxing Pictures || Empires Collide Boxing Videos

If you have any pictures from this event, please send it to us and we'll credit you for it. Talk about this event in our friendly discussion forum! Be sure to check out our other reviews. Write an Asian related article, and get it read by thousands of people daily. Get credit for it. Click here for more details on submitting an article to us.