New York Comic Con 2015 Review
---
Thursday, October 8th - Sunday, October 11th, 2015



New York Comic Con 2015 was a four-day entertainment event held in New York City's Jacob K. Javits Center. The annual event is so popular that this year ReedPop expanded the panels to Hammerstein Ballroom. It was a great way to ease the traffic at the Javits Center while letting the true panel fans line up a few blocks away. The NY Comic Con (NYCC) 2015 featured a host of special guests from all forms of pop culture. There is a wide range of activities to choose from including a massive exhibit hall, panel discussions, screenings, art exhibitions, concert performances, cosplay, meet the guests receptions, and much more. AsiaFinest was at the NYCC all four days to cover as much as possible. The New York Comic Con 2015 was bigger and better than ever with a record 167,000+ attendees! AsiaFinest took hundreds of pictures and videos of the NY Comic Con 2015, so be sure to check them out.

Pre New York Comic Con: Getting Comic Con Tickets


Based on the previous New York Comic Con success, there was a huge demand for the 2015 New York Comic Con months in advance. Tickets were sold out online within the first hour. Visitors to the New York Comic Con website were placed on a huge virtual queue list the moment the tickets went on sale, and even then not everyone was able to purchase a ticket online. It's like trying to buy a ticket to any insanely popular concert, most would be sold out within minutes. People that didn't get a chance to purchase it online had to wait for Midtown Comics to sell them. Midtown Comics was the only retail store to sell them this year. Midtown Comics and ReedPop pushed back the sale date this year to the middle of September. They announced it a day before selling the tickets and people started camping out within hours of the annoucement at the downtown store. The line was 10 blocks long by midnight and queued all the way to Brooklyn Bridge at its peak. 3 Days and Saturday tickets were sold out within hours of the store opening. Midtown Comics and ReedPop did an amazing job this year handling the tickets sales. They conducted the badge sales in the alley by the store with numerous registers and security to direct everyone. By 3pm there was no more lines as opposed to last year where the line lasted till closing time. 4 days pass was still avaiable at that time but was soon sold out as well. The rest of the single day tickets were sold out soon within 2 days..


Thursday October 8th: Day 1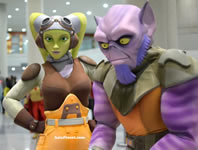 This day used to be reserved for Professional, Press, VIP, and 4 Days ticket holders only. But NYCC has became so popular that even Thursday is jam packed with many great panels, screenings, and signings.Thursday is a great day to prepare yourself for the next few days by familizing yourself with the convertion exhibits and layout. The Back to the Future movie and Pepsi was the first major exhitbit that visitors saw this year as they entered the Javits Center. Anyone dressed as Marty McFly and took a picture with the Delorean time machine car was given a exclusive pepsi bottle designed like the one seen in the Back to the Future movie.

The lines are usually shorter on Thursday than Friday and Saturday. Marvel Collector Corps was selling their exclusive Marvel themed box of goodies for only $25. Attendees who wore MCC t-shirts received a free cute Ant-Man poster. The lines was relatively short on Thursday, but was at least a 30 minutes wait the next few days. Thursday is also a good day to get access to rare comic con collectible exclusives first before it gets sold out.

Comic con collectible exclusives are a must have nowadays. Not only are the products not sold outside of New York Comic Con, most of the products are limited to a certain number to make it even more rare! The most popular exclusives this year were definitely the Funko Pop figures. The exclusive Pop figures was so popular that people camped overnight for it. Toy Tokyo had two exclusive Funko Pop 6" Godzilla figures. Attendees who wanted it had to line up for 4 hours to get it. Lines were capped really quick. There was a limited edition Stan Lee Pop! figure again this year. DC Comics were selling rare exclusives NYCC comic variants for their Superman and Batman comic series. Image Comics sold an exclusive OutCast #1 variant, while Archie Comics sold an NYCC Jughead #1 varaint.

Major panels at the main stage included popular TV series such as Game of Thrones, Teenage Mutant Ninja Turtles, and Star Wars Rebels offered exclusive previews. Popular signings included Robert Kirkman(creator of the Walking Dead.

Friday October 9th: Day 2

The comic con fans came early and the lines to get into the Javits Center stretched down the block. Soon after the door opened, the crowd dispersed evenly. Fans rushed to get tickets for various signings and exclusive NYCC exclusives.

We checked out all the major booths and exhibits today as we know it would get even more crowded tomorrow. Major exhibits included a Cirque Du Soleil Toruk booth where you play an interactive game to find hidden items, and Weta booth which featured exclusive props from the movie Chappies, Lord of the Rings, and Warcraft, the upcoming live-action film from Legendary Pictures.. Just Dance was a familiar booth from previous years, showcasing their newest dance game version by letting attendees dance on stage. Other major booths includes Bandai, Mega Blox, ABC Family, and more. There were giveaways, tons of comic artists signing, and other entertaining interactive things to keep attendees interested at each booth. Attendees got to an early sneak peek into upcoming video games such as the new Capcom's "Mega Man Legacy Collection" and Gumi's "Phantom of the Kill" months before it will comes out.

Friday's most popular panels included the "Teen Wolf", "Once Upon a Time", and "Stitcher and Pretty Little Liars". The cast from their TV respective shows came out to talk about their experience and answers any questions audience members might have for them.

Saturday October 10th: Day 3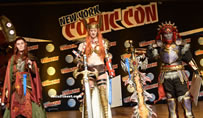 The door opened before the listed 10am today which is a good thing since it was the most popular day of the event. The cosplayers came out in full force today. Costume characters ranged from old school favorites "Sailormoon" and "X-Men" to the insanely popular "Harley Quinn" and "Deadpool". In the previous comic cons, there was a lot of female cosplaying as their favorite male characters. This year we noticed a lot more gender role reversal with males cosplaying as popular female characters. There was a ton of comic book signings today. Both Marvel Comics and Image Comics had hourly signings featuring some of the most well known artists in the comic industry. Signings for popular artists such as Scott Synder, Robert Kirkman, and others was over an one hour long wait.

A rare appearance by Masashi Kisimoto, the creator behind the global phenomenon anime and manga, Naruto, was here today at the Hammerstein Ballroom for the Naruto movie debut and signing.

The major panels was also scheduled for today. We covered AMC's Into the Badlands with the cast from the upcoming TV show starring Daniel Wu(pictured above right)was on hand with exclusive clips. Robert Kirkman(creator of The Walking Dead) also had a panel on his upcoming new comic based horror show, Outcast. Other insanely popular panels included Marvel's DareDevil and Jessica Jones. Marvel brought the main stars for each show and even showed the entire episode 1 of Jessica Jones a month before it debuts on Netflix. The biggest complaint that we have heard in the previous years was that the fans had to wait hours to get into these panels, while a lot of fans weren't able to get in due to the people staying inside the theater from previous panels. This year all the main stage panels were cleared out. Anyone who was interested in the panels lined up early to get a wristband that was valid for the panels that they were interested in.

There was a lot of celebrities autograph signings today as well. Most autograph session required payment to meet your favorite celebrity star such as Orlando Jones,Danny Glover, and Felicia Day. Later in the evening, there was the NYCC Charity Auction and the mega popular second annual Eastern Championships of Cosplay. This is the first stop in the "Quest for the Crown", a new global Cosplay competition circuit. This event brought out the best of the best in cosplayers. There were so many outstanding cosplayers this year. Cosplayer Thomas DePetrillo easily won this year with his impressive 9.5 ft tall Iron Man Hulkbuster costume. The costume took 1600 hours to build, weights 95lbs, and 20 minutes to put on.

Sunday October 11th: Day 4

The final day of the the 2015 New York Comic Con. With the addition of New York Super Week, people who have attended NYCC for multiple days were starting to look like the zombie cast from The Walking Dead. Everyone was tired and drained from all the fun and excitement from the previous few days. There were a lot of comic con themed afterparties each night this year. Sleep was not something to be had during comic con. Even we were starting to look like pandas from the lack of sleep.

The only complaint that a lot of attendees had today was the mad rush for signing wristbands today. The free wristbands for cast of "Supergirl", "BlindSpot", "Person of Interest", and "Gothan" were suppose to be given to people who lined up first, but the line became chaos when it was redirected to another area to pick up the wristbands. People were just rushing and squeezing in from all direction at that point. People who waited hours were left empty handed as the wristbands were really limited. The queue lines were pretty well organized the days before, but for some reason it wasn't today for these wristbands.

As always Sunday was NYCC KIDS day. A great time to bring out the younger audience. Cute and adorable kids came dress as their favorite superheros. It was like a chibi version of all the cosplay costumes that we have seen the previous few days. A lot of events were geared towards the kids today including Cartoon Drawing Workshop, Kids Costume Parade, and Wand Dueling Workshop,

The main panels that we covered today were "Minority Report", "Goosebumps", and "Sleepy Hollow". The panels featured the stars from each TV series, exclusive trailer/video clips, and had a Q&A with fans.

The merchant area was less crowded today, so we decided that it would be the best time to really check it out thoroughly. A few of the merchants had discounts on their products since it was the last day. Some of the merchant discounts this we found this year was M&M Star Wars themed merchandise up to 50% off. T-shirts that was $18 the previous 3 days was $10 today. A Star Wars fleece blanket that normally sold for $10 was only $5 today. A few comic merchants also had sales today. New comics such as the new 2015 Amazing Spiderman #1 was only $2(normally $5.99). Scottie Young's Marvel Comic Variant covers were also only $2(normally $3.99 - $4.99). A note to our readers, if you see a product that you like during the previous days, then be sure to buy it on the spot. We noticed that a lot of the products were sold out by today. Book publishing exhibitors also gave out a lot of free books today.

By the time 4pm came, everyone was tired from the long but fun filled weekend and was clearing out of the Javits Center. You could feel a general sadness in the atmosphere that the event was coming to a close. Everyone hung around the convention center area to take pictures and mingled with fellow comic con fans. We interview a few fans and everyone that we spoke with was looking forward to NYCC 2016.

Conclusion:
New York Comic Con is always our favorite event of the year to cover! Each year NY Comic Con gets even more bigger and better than the previous years. New York Comic Con attracted over 167,000 attendees in 2015, making it the largest comic book and pop culture gathering in the country. We definitely noticed an improvement with the way ticket was sold, line queues, and the clearing of the main stage panels this year.

Overall the New York Comic Con is a wonderful experience for everybody. It's not just for anime, comic, and sci-fi fans. There is something for everyone here. All genre of pop-culture entertainment are on display here. We highly recommend that everyone get at least a 3 day pass. You will need all 3 days to truly experience everything. We feel that even the 4 day pass is well worth it because it gives you a chance to preview most of the event so that you can better plan out your time at the convention. We are definitely looking forward to next year's New York Comic Con 2016. The NYCC will be held at the same place, Jacob K. Javits Center, on October 6 – 9, 2016. We highly recommend that you order your ticket as soon as it becomes available online. We predict that NYCC will only get more popular, and tickets will be in even more demand and sell out even faster. So be sure to mark it on your calendar and we'll hopefully see you there!



New York Comic Con 2015 Pictures || New York Comic Con 2015 Videos


If you have any pictures from this New York Comic Con 2015, please send it to us and we'll credit you for it. Be sure to check out our other reviews. Write an Asian related article, and get it read by thousands of people daily. Get credit for it. Click here for more details on submitting an article to us.