AsiaFinest Gong Li
---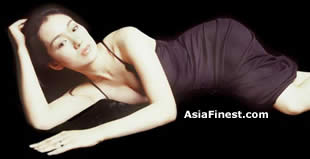 Name: Gong Li
Date of Birth: 31 December 1965
Birth Place: Shenyang, Liaoning Province, China
Sometimes Credited As: Lei Gung

Born in 1965 in northeastern Shenyang, Gong was the youngest daughter of an economics professor. She knew from a young age that she wanted to be an actress, and at school she excelled at singing and dancing almost to the exclusion of other subjects. In spite of failing her college exam twice, she was eventually accepted to the Beijing Central College of Drama in 1985. At that time, Chinese cinema was experiencing a renaissance after the tumult of Mao Zedong's Cultural Revolution. Chen Kaige's Yellow Earth (1984) had just taken the Hong Kong International Film Festival by storm, heralding the rise of the Fifth Generation of filmmakers. One of these young directors was Zhang, the cinematographer for Yellow Earth, who cast Gong in his debut project, Red Sorghum (1987). Immediately a critical and commercial success both abroad and at home, the film garnered the Golden Bear award at the 1987 Berlin Film Festival and thrust both director and star into the international limelight.

One of China's leading young stars of the 1980s and 90s, Gong has appeared in films by other directors ("The Empress Dowager" 1988, directed by Li Hanxiang; "The Terra Cotta Warrior", in which she acted opposite Zhang) but it is in Zhang's films that she is best known internationally. Slender and demure-looking but possessing a naturalistic verve and strength onscreen, Gong Li embodies a new generation of Chinese women, brought up amid ancient tradition but reaching toward feminist values. In the title role of "Ju Dou" (1990), she played a married woman whose torrid affair with her husband's nephew brings about tragic consequences, while in "Raise the Red Lantern" (1991) her character also causes trouble as the newest addition to a man's bevy of wives. Gong Li ventured into comedy with another eponymous heroine in "The Story of Qiu Ju" (1992) as a woman farmer determined to avenge an injustice done to her husband. In 1993, Gong Li starred in a film by another Fifth Generation stalwart, Chen Kaige, "Farewell to My Concubine" which shared the Palme d'Or at Cannes for best picture.

Zhang once again directed Gong Li in the well-received historical epic "To Live" (1994), which followed a married couple over 30 years of modern Chinese history. Uncharacteristically, Gong Li's role as a devoted wife and mother was overshadowed by that of a strong male lead, actor Ge You, who played her husband. The pair's next collaboration "Shanghai Triad" (1995) offered Gong Li a tour-de-force role as a nightclub chanteuse and gangster's moll. She reunited with Chen Kaige for "Temptress Moon" (1996), in which she essays the role of an isolated, spoiled heiress. A year later, Gong made her English-language debut in Wayne Wang's "Chinese Box," staring opposite Jeremy Irons. She returned her native land for her next feature, "Piao liang ma ma" ("Breaking the Silence," 1999), China's official entry for the Academy Award for Best Foreign Language Film in 2000 about a hard-working single mom who struggles to earn enough money to buy a new hearing aid for her son. Gong Li won Best Actress at the 2000 Montreal World Film Festival for her performance.



Gong Li went on to star in what was reported as the most expensive Asian film to date, "The Emperor and the Assassin" (1999), a sweeping historical epic set in feudal China during the 3rd century B.C about the first emperor of a unified China (Li Xuejian), the man sworn to kill him (Zhang Fengyi) and the woman loved by both (Gong Li). In "Zhou Yu's Train" (2003), she played a painter at a ceramic factory who has fallen in love with a reticent poet (Tony Leung) with whom she travels by train every weekend to engage in a passionate love affair. But on one trip to meet her lover, she meets a cynical traveling veterinarian (Sun Honglei) who also manages to win her affections. Gong Li next appeared in "Eros" (2004), an anthology with short features about eroticism and desire helmed by Wong Kar Wai, Steven Soderbergh and Michelangelo Antonioni. In Wong Kar Wai's piece "The Hand," she starred as a refined Hong Kong prostitute who seduces a young virginal tailor (Chang Chen) when he arrives at her home for a fitting.

Gong Li reunited with Wong Kar Wai on his magnificently flawed epic, "2046" (2005), a loosely related continuation of the director's lyrical love story, "In the Mood for Love" (2001). She then had a supporting role in the high profile "Memoirs of a Geisha" (2005), the story of a Japanese girl torn from her penniless family and raised in a geisha house where she blossoms into the legendary geisha, Sayuri (Zhang ZiYi). Gong Li played an aging geisha jealous of Sayuri's ability to captivate the most powerful men in the world. She was then set to star in two big budget features: "Miami Vice" (2006), a remake of the popular 1980s television show starring Jamie Foxx and Colin Ferrell, and "Behind the Mask" (2006), a thriller that follows serial killer Hannibal Lecter's childhood in Lithuania to his arrival in the United States. Both features promised to turn Gong Li into a household name in the states despite her long career in film.



Gong Li's Picture Gallery || Gong Li's Products


If you have any pictures of Gong Li, please send it to us and we'll credit you for it. Talk about Gong Li in our friendly discussion forum!