AsiaFinest Ghost in the Shell 2: Innocence Premiere Screening
---
Ghost in the Shell 2: Innocence - East Coast Premiere Screening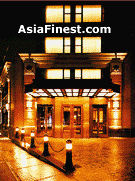 Event Review by Ben Li
We was invited to this exclusive media/press premiere screening of the anime Ghost in the Shell 2: Innocence. The premiere took place at the Tribeca Grand Hotel theater on September 13th, 2004. The location was definitely different from the other premiere screenings. It was a pretty intimate setting as seating were limited to 100 people. Before the screening was shown, there was a few speeches given by people from the rap group Wu-Tang Clan, and the President of New York - Tokyo. After the screening, we was given a chance to get drinks and mingle with the other press and media. Freebies from Japan Airlines, Wired Magazine, and more, was given during that time as well. Overall the whole night was an enjoyable event!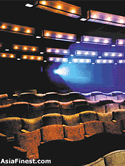 Movie Review by Kevin Chiu:
Ghost In The Shell 2 was terrific overall. The plot of the story was very straight forward and was explained very well and very original. For those of you who don't understand this film, it's basically about a half-human, half-cyborg who investigates a common brand of sex toy (YES a sex toy). The sex toy comes in the shape of a female cyborg which acts like a Black Widow Spider only that it is a robot. The investigator has to find out what makes this sex toy function and why it goes berserk and kill the owner (what a shame for the owner!). Also for those hackers out there, this movie involves hacking into the sex toy and makes the toy follow your orders. It can be a sign for the near future if companies if they decide to replace their workers with robots. If you didn't see this movie yet, go check the listings and see this movie. You won't be disappointed.

Click here to purchase Ghost in the Shell products. Talk about Ghost in the Shell 2: Innocence in our friendly discussion forum! Be sure to check out our other reviews. Write an Asian related article, and get it read by thousands of people daily. Get credit for it. Click here for more details on submitting an article to us.