HKETO Press Conference featuring Aaron Kwok and Ringo Lam in New York
---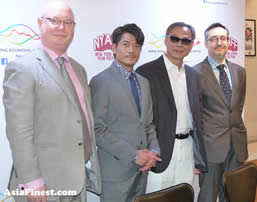 June 26th, 2015. Hong Kong Economic and Trade Office held a press conference which featured Hong Kong superstar Aaron Kwok and Ringo Lam. Ringo Lam had to leave early so most of the press conference featured Aaron Kwok. Aaron answered a lot of questions based on his career in multiple languages including, Cantonese, Mandarin, and English! Be sure to check out AsiaFinest pictures and videos coverage of the press conference below after HKETO's press release. This press conference took place a few hours before the opening night of the The 14th New York Asian Film Festival 2015. Be sure to check out our coverage on NYAFF 2015 as well.

Hong Kong Cinema Shines in New York


The 2015 New York Asian Film Festival (NYAFF) features 11 eclectic and outstanding Hong Kong films, many of which are US premieres., The prestigious Lifetime Achievement Award and Star Asia Award will be presented to multiple-award winning director Ringo Lam and superstar Aaron Kwok respectively to recognize their predominant influence and contribution.

Sponsored by the Hong Kong Economic and Trade Office in New York (HKETONY), the Festival will showcase Hong Kong's new releases and classics under the banner "Hong Kong Panorama" at the Lincoln Centre and SVA Theatre till July 11. The Festival will include one world premiere ("Robbery"), three North American premieres ("Insanity", "Port of Call", and "Two Thumbs Up"), one US Premiere ("Full Strike"), and one New York premiere ("It's Already Tomorrow in Hong Kong").

Speaking at the Opening Night Reception on June 26 (New York time), Director of HKETONY Steve Barclay said the Hong Kong Government will continue to actively support and promote the Hong Kong film industry worldwide.

Initiatives include additional funding to the Film Development Fund which was set up to encourage more local film productions and nurture production talent; the Film Production Grant Scheme for small-budget productions and, the First Feature Film Initiative to identify and nurture new talents.

This marks the seventh consecutive year for the HKETONY to have brought award-winning Hong Kong movies as well as home-grown film directors, actors, actresses and screenwriters to New York, through the NYAFF programs.

Attending the reception and appearing for the first time in the international film festival circuit after a years-long hiatus, director Ringo Lam was warmly welcomed by the American audience. Mr Lam was hailed by the New York Times (June 25) as "Hong Kong`s Crime Master" for his gangster noir movies. He will receive the NYAFF Lifetime Achievement Award at a special ceremony on June 27.

It will be followed by the screening of his critically acclaimed work "City on Fire", the award-winning film which inspired Hollywood director Quentin Tarantino to make 'Reservoir Dogs'.

Also attending the reception was super-star Aaron Kwok who made history by winning the Golden Horse Best Actor award back-to-back in 2005 and 2006. He brought with him to New York his latest work "Port of Call", which was the opening night film. He was presented the Star Asia Award the same evening, in recognition of his constant commitment to excellence.

All 12 screenings, with two screenings of "Port of Call", are opened with the new "Our Hong Kong" trailer. The short video features the unique East-meets-West cultural characteristics of the city through the eyes of a young Chinese-Canadian woman who grew up in Hong Kong.




HKETO Press Conference's Pictures || HKETO Press Conference's Videos



Talk about HKETO Press Conference in our Facebook page. Be sure to check out our other reviews. Write an Asian related article, and get it read by thousands of people daily. Get credit for it. Click here for more details on submitting an article to us.