AsiaFinest Asian Allure: MESMERIZE 2003 Calendar Review
---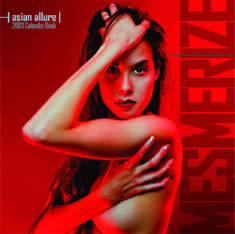 Asian Allure: MESMERIZE is a 2003 calendar book featuring images by the renowned photographer, John Louie.

This 12" x 24" full spread calendar book includes over 150 images of beautiful asian women, behind the scenes photos, free 12" x 24" centerfold poster and much more.

Models featured in the 2003 calendar includes:
Betty Liu, Caroline Nguyen, Helena Lee, Jasmin, Jenilyn, Jennifer Tia, Jessica Christine, Lisa, Mai, Roanna, Vannessa Garcia, and Yuki .

Review: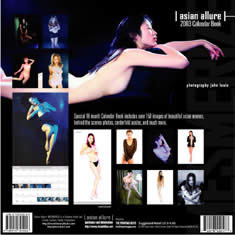 Pros: Asian Allure's new calendar features some of the hottest Asian models around. The girls are beautiful and sexy in this calendar! There is no nudity in this calendar, unless you count a few see through lingerie or a bare butt. At 12" x 24", this is a pretty good size calendar to hang up!

Cons: Asian Allure states that it includes over 150 images. Most of those picture are very small that takes the place of the dates(see bottom left on the picture).

Overall: At only $14.95, we recommend getting this sensual calendar.

This calendar is no longer for sale. Talk about this calendar in our friendly discussion forum! Be sure to check out our other reviews. Write an Asian related article, and get it read by thousands of people daily. Get credit for it. Click here for more details on submitting an article to us.