AsiaFinest Anime Expo New York 2002 Coverage
---
Labor Day Weekend Saturday, August 31 - Monday, September 02, 2002



Anime Expo NY was a three-day event held in New York City's Time Square. AXNY featured a host of guests from Japan and the United States as well as a range of activities including an exhibit hall, panel discussions, video programming, art exhibitions, industry awards, karaoke, meet the guests reception, a charity auction benefiting victims of the 9/11 tragedy and more.

Daily Review by Ben and Jimmy
Saturday August 31: Day 1


Day 1 was definitely hectic. We didn't know what to expect when arriving at the Marriot Marquis. We picked up our press badges and headed for the first event which was the opening ceremonies. That lasted for 30 mins and then everyone broke out for all the scheduled events. The exhibit hall was were most people went to first and boy was it crowded. You can barely stop to admire the merchandise without people bumping into you left and right. It was long before they started limiting the amount of people allow in the exhibit hall. The lines grew to be a 30 minutes and up wait. A lot of attendees became frustrated with the wait.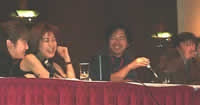 Next up was the Cowboy Bebop panel. Shinichiro Watanabe, Toshihiro Kawamoto & Yoko Kanno was there to answer any question that fans might have. There was a huge turnout for this guest panel. People was still hyped up from the premier of the Cowboy Bepop Movie the night before. When asked what US shows were their favorite, Yako Kanno (second from left) answered "Sesame Street!".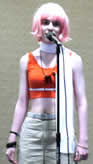 The next event that we went to was the Karaoke Contest. There was a 30 mins delay, which a lot of people did not like. It was pretty wild. People sang their favorite anime song, not to mention "Amazing Kiss" by BoA. I was surprise to see how many people that wasn't Asian singing their favorite Japanese anime song! There was around 20 contestant. Out of those contestant 6 was picked as finalist. Right after the Karaoke contest, we went to the Anime Music Video Contest. Again there was a delay of over a hour. We sat through 32 music videos and picked a video for each category(Drama/Romance, Action/Adventure, and Comedy). The drama category was first, and boy was the tempo for some of the music video slow. Some seemed like it took an eternity to end! A fellow press member who was sitting beside us left after a few videos. The action category was shown next, and boy did were we glad. The high tempo songs filled people back with energy after being drain by the Drama videos. Last but not least came the Comedy category which made us all laugh, except for one which I think was called Yoda. That video had someone who can't sing for life trying to sing a parody over the anime video. The music selection for some of those videos are great! It ranged from Enigma's Gravity of Love to Mortal Kombat to Bonnie Tyler's I need a Hero. It was around midnight when it ended and boy were we tired. -Ben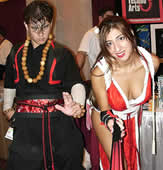 Round 1: First day was definitely exciting with all the anime fans showing up. Fans dressed in costumes and accessories representing their favorite characters. The day started with the opening ceremonies, which kicked off with speeches from the organizers and other guests. On our first day, we were bum rushed by fans for the opening of every event in the hotel. The exhibit hall was packed with so many die-hard fans, I couldn't even move a step and the lines were twisting back and forth for a couple rows. I have to say there was a lot of interesting anime to be seen in the exhibit/dealers rooms. After we got out of the chaos in the exhibit hall, we was off to hear the guest of honors (Ms. Yoko Kanno, Mr. Toshihiro Kawamoto, and Mr. Shinichiro Watanabe) from the anime Cowboy Bebop answer questions about the movie's designs, pictures, character backgrounds, and songs/lyrics. Next we was off to the Karaoke Room for a view of the contestants. It was very interesting and weird hearing fans sing the opening songs from their favorite anime show's.The ending for Round 1, ended with the Anime Music Videos submitted by Anime Fans, we were there till midnight watching all the interesting and boring music video's while trying to vote for which one was the best. More to come - Jimmy
Sunday September 1: Day 2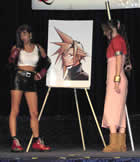 The day started off being dark and gloomy from the rain. We were surprised to see how little people there was today as oppose to yesterday. We checked out the exhibit hall again and went to different industrial panel such as Bandai, FUNimation, Viz, etc. We also checked out some of the video rooms to rest ourselves. We saw anime classics such as the original DragonBall series. The main event for day 2 is of course the Masquerade Contest. I was starving while waiting outside for Masquerade to start, but was saved by a girl who was willing to share her fried rice with me. There was over 50 cosplayers with hopes of winning the top prizes. The top winner(s) of the best of show is pictured below. My personal favorite was the skit where the Final Fantasy 7 girls had a cat fight/dance over the Brandy and Monica'a song "The Boy is Mine". Be sure to check out the AVI in our picture gallery which shows their skit and the surprising and hilarious cameo of another FF7 character! - Ben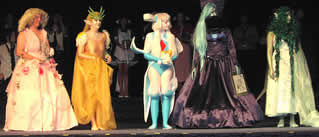 Day 2 a.k.a. Round 2 Sunday morning; beginning of a new day of more anime to come. The day of the Masquerade Contest, anime fans all over the place with their costumes on hand and ready to show off they're skills making the costumes and showing off for all of us to look at. This day was kinda slow waiting for the main event, so let me add something that I missed for yesterday's review. There was a fan art/charity room, which displayed artwork and original pieces that was gonna be auctioned off to help with the 9/11 charities. As the day drags on, we went around to the anime rooms to watch some classic shows like Dragonball. Once done, we went to the sponsors' rooms to hear about future releases from ADV, Funimation, Central Park Media, Bandai, etc. It's time for the last event for the day, the widely awaited Masquerade. I was definitely excited and impressed with how well all the costumes look and how well the anime fans cosplayed their characters to entertain everyone in the audience. There were costumes from a few Final Fantasy series, Cowboy Bebop, Trigun, Card Captor Sakura and other interesting anime's show I can't remember from. Midnight is about to strike and the winner for my very first masquerade contests are the characters from Card Captor Sakura for Best of Show and Act. The End of the 2nd Day… - Jimmy
Monday September 2: Day 3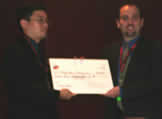 The final day of the expo was here. We attended a few last panels and went to the Charity Auction. We attempted to win a few of the auctions, but was out bided each time. The auction generated over $17,000, which a check was promptly written out to the 9/11 charity (pictured right). The closing ceremonies was right after the auction. We got to see the main guest of honors again and their final words. Some of their final words were touching while other was hilarious which included a birthday song being sang to a translator. After their final words, they continue with their tradition with closing a sucessful expo out by filling in the other eye(as shown below). - Ben

Day 3: Final Day. Geez it's Monday already? Time flies when we are having so much fun. Nothing much to say about today, except that it was the closing of a fabulous weekend of anime, anime and more anime. It marks the closing of a successful expo with the charity auction, which featured a lot of works by artists of many anime series (Gundam's, Orange Road, and other works). The biggest auctioned piece for the charity for 9/11 was from the series Orange Road, which sold for $5000.00. Next up, the closing ceremonies for this years Anime Expo. Organizers and guests of honor show up for some words with everyone that attended and how much they appreciated all the fans that came out to make this expo a success. Well this concludes my daily review. - Jimmy


Conclusion:


We interviewed a few people while at the expo and after the expo and got some of their thoughts on this anime expo. We received mixed reviews. A lot of people on Saturday said it was really disorganized. "A riot is better organized than this" said one attendee. When asked If they plan to come back next year, some reply with "no!". We interviewed a few of the exhibitor there and most said business was good. Jeff Petersen from Super Techno Arts said " Business was good overall. This anime expo is better than the one in Long Island."

"It was one of the most wonderful experiences of my life.. I met so many friendly, wonderful, & creative people there, who shared my interests in anime & video games.. I had never been to an anime convention before, this was my first one. I didn't know that there were conventions for anime until my friend told me about it after I finished working on my Lulu dress. Unfortunately, I didn't get to spend much time in the convention rooms as I couldn't maneuver my dress through the crowds of people, but I spent a lot of time in the halls admiring other costumes, making new friends and taking pictures with other cosplayers. I have always admired Japanese animation, artwork, and culture, as opposed to other cultures, because there is so much more depth, creativity, and artistic expression in it. I do plan on attending more conventions in the future, one being the upcoming AnimeNEXT in NJ... and cosplaying was so much fun that I am already gathering ideas for my next costume!" - Danielle from East Rutherford, NJ

"This was my first time at a con. I wanted to cosplay as someone that no one else would be doing, but it kinda backfired when no one recognized me! But I still did get people to take my picture. I thought that the dealer's room was *way* too crowded, you couldn't barely stop to buy something (if you could afford to) without being stepped on or pushed. I also thought that the events could have been more punctual (most were at least 30 minutes late). They also apparently had a problem with so many people headed for 6th floor that I had to wait on the 5th floor with at least 100 other people for almost an hour before we were allowed to use the escalator to go up. But on the flip side, I thought that the guests they had were great, and the hotel was beautiful. The karaoke contest was lots of fun, but they should get a real stage next time. Some other people in cosplay did a great job on their costume. My only regret was that I could only stay for one day but overall, it was still lots of fun." - Jing from Cherry Hill, NJ

Overall, other than the raining weekend, delays and overcrowding on Day 1, We had a great time covering the Anime Expo NY. The exhibit halls were filled with merchants who had rare and unique items. We even brought a few things ourselves. We met a lot of cool people and enjoyed all the guest panels and events that took place. It's a great experience for people who are new to Anime as well as Anime veterns.

Be sure to check out the AXNY pictures and videos!

If you have any pictures from this event, please send it to us and we'll credit you for it. Talk about this event in our friendly discussion forum! Be sure to check out our other reviews. Write an Asian related article, and get it read by thousands of people daily. Get credit for it. Click here for more details on submitting an article to us.