Big Apple Comic Con 2010 Review
---
Friday, October 1st - Sunday, October 3rd, 2010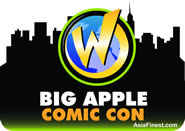 Big Apple Comic Con 2010 was a three-day event held in New York City's Penn Plaza Pavilion. The event, the largest and longest-running Comic Con in New York, bring together thousands of fans of all ages and plenty of celebrities and industry professionals to celebrate the best in pop culture: movies, comics, toys, video gaming, television, gaming, original art, collectibles, contests and more. AsiaFinest took a lot of pictures of the Big Apple Comic Con 2010, so be sure to check them out.

"From Lee Majors' first convention appearance in 30 years and the first time the 'Brady Boys' have been together on the East Coast, we're always looking to bring unique guests and programming to Wizard World Comic Con," said Gareb Shamus, Wizard Entertainment CEO. "Big Apple Comic Con appeals to fans of all aspects of pop culture, from comics to television to movies to music to toys to video games and more."

Special events at Big Apple Comic Con include the "Magic: The Gathering" card game tournament, professional photo opportunities (Photo Ops) with celebrities and others to be announced.

The Big Apple Comic Con 2010 featured a host of celebrities, media, and of course comic book creators guests.



Celebrities guests includes
- Adam West and Burt Ward from the original TV Batman series
- Film and television star Mary McDonnell, who has been nominated twice for Oscars, twice for Golden Globs and once for an Emmy. Best known for her role on "Battlestar Galactica".
- Lee Majors, who has starred in numerous television series over six decades, most notably "The Six Million Dollar Man," "The Fall Guy," and "The Big Valley,"
- Twilight Saga star Julia Jones, who was also featured on ER and in Jonah Hex

Media guests at the Big Apple Comic Con 2010 includes: Kevin Nash, Torrie Wilson, Diora Baird, the Brady Bunch brothers: Barry Williams, Christopher Knight, and Mike Lookinland, and more. Comic guest includes Mark Millar, Arthur Suydam, Greg Horn, Leinil Yu, Joe Madureira, Michael Golden, Bill Jemas, Mike Grell, Paul Levitz, Shane Davis, Ethan Van Sciver, and much more. There was other exhibitors such as a Scion booth where you could win prizes by tossing a beanbag into a hole. There was even a Dippin Dots ice cream vendor!



We interviewed a first time Big Apple Comic Con attendee, Kevin Chiu, of New York on what his opinion was of the Big Apple Comic Con. This was his response:

"This was my first Comic Book Convention at the Penn Plaza Pavilion. This comic convention was a week before the NY Comic Con at the Javits Center. My first impression of the comic con at the Penn Plaza was so-so. All the recognizable celebrities were crammed on the first floor. The three Human Centipede cast members, Lee Majors (Six Million Dollar Man, Fall Guy) to name a few. The ORIGINAL BATMAN AND ROBIN (Adam "Mayor" West, Burt Ward) were there. Unfortunately, there wasn't any photo opportunities at their booth. However, on the second floor were the comics, toys, and collector's items being displayed and who was roaming around? ADAM WEST!!! Needless to say EVERYONE was taking snapshots at him.

My overall experience was that they could do better. The wow factor came and gone. Although there were pretty female sports celebrities there, I didn't want to spend that much on getting their autographs. Lee Majors was asking for $70 dollars. He REALLY wants to the Six Million Dollar Man at that price. Oh well. Until next year." - Kevin Chiu

Conclusion:
AsiaFinest.com had a fun time covering the Big Apple Comic Con 2010. New York Comic Con 2010 was a week later so the date might have hurt the attendance. The Penn Plaza Pavilion location was convenient to get to, but the comic con spacing felt was a little too tight especially on the first floor. The 2nd floor was more roomy. There was a "basement" floor where a lot of the comic artists were, but we didn't even know about it till the end. The Big Apple Comic Con 2010 did not disappoint when it came to comics. It was the main focus with a ton of vendors displaying comic related goods. We did no't expect to shop there while we covered the event, but we couldn't help ourselves with the discounts given by a lot of the vendors. You will score some pretty good deals on comic books and related products! The Big Apple Comic Con 2011 will actually be held at the same place on May 20th - 22nd, 2011. So be sure to mark it on your calendar and hopefully we'll see you there!



Big Apple Comic Con 2010 Pictures


If you have any pictures from this Big Apple Comic Con 2010, please send it to us and we'll credit you for it. Talk about this event in our friendly discussion forum! Be sure to check out our other reviews. Write an Asian related article, and get it read by thousands of people daily. Get credit for it. Click here for more details on submitting an article to us.