BigBang Alive Galaxy Tour 2012 Prudential Center Concert Review
---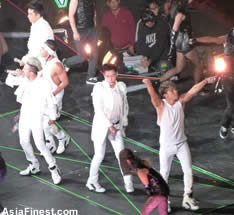 November 9th , 2012. The mega popular K-Pop band BigBang performed to a jam packed concert at the Prudential Center located in New Jersey. It was part of their global Alive Galaxy Tour, and AsiaFinest was on hand to cover this highly anticipated event!

The concert was sold out within minutes of being on sale. It was a long awaited concert for K-Pop fans here on the East Coast. The fans were flying in from out of states as well as from Canada. Everyone was looking forward to the concert, but then Hurricane Sandy hit the East Coast a week before the concert. The superstorm severely damaged New Jersey and New York. Everyone was worried about not being able to fly into nearby airports, or finding local transportation to and from the Prudential Center. Luckily the local transportation was up and running again the day before the concert, but for fans from out of state, they had to cancel due to delays at the airports and hotels having to cancel because of damages. During one of the many chats with the audience, Taeyang related his thoughts and prayers for the east coast during the hurricane and how the band was determined to keep their promise to make the date despite having to change planes three different times to get to New Jersey during this latest storm.



The die-hard fans didn't let the storm stop them from seeing G-Dragon, T.O.P., Seungri, Taeyang, and Daesung of BigBang. It was jam packed with tons of diehard screaming fans. BigBang performed more than two dozen songs while wearing almost as many outfits and using just as many props as they can use in each song. Each member performed their top solo songs as well.

Being the leader of Big Bang, G-Dragon dressed and played the part of ringmaster during the concert. BigBang opened the concert with classic hits such as "How Gee", "Stupid Liar" and "Gara Gara Go!!". Songs like "Fantastic Baby" had everyone in the whole arena shouting "BOOM SHAKA LAKA!" The "shy" member of BigBang, T.O.P, dueted with G-Dragon with two of their hits "Knock Out" and "High High". Seungri did a mash-up of a few songs including "Strong Baby" and "What Can I Do". For Daesung's solo"Wings," he wore a huge set of white, feathered wings and soared above the fans in the arena. Taeyang single handedly gave all the female fans their money worth when he ripped off his shirt and was shirtless multiple times. Each time causing the roof of the Prudential Center to almost pop off from the ear-deafening screams. The crowd nearly drowned him out when they sang along to "Wedding Dress".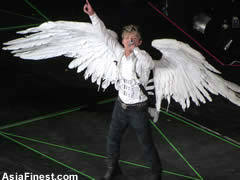 BigBang paced the concert pretty well with their song selection. Aside from the solo songs, they sang classic hits like"Lies," the newer party track, "Feeling," as well "Bad Boy", which the music video was filmed in New York. For their finale, BigBang came back out to the appropriately titled, "Last Farewell," and Taeyang ended the concert with a sad chorus of "Na, Na, Hey, Hey (Kiss Him Goodbye)"

BigBang's Alive Galaxy Tour was a sucess. They were energetic, teased the fans, and even had dance lessons from Seungri and Taeyang. Fans who love BigBang's music definitely needs to see them perform live. It's a totally different experience that should not be missed with fellow BigBang's fans.

Review written by Ben Li of AsiaFinest.com.


BigBang's Concert Pictures || BigBang's Products

If you have any pictures from this event, please send it to us and we'll credit you for it. Talk about this event in our friendly discussion forum! Be sure to check out our other reviews. Write an Asian related article, and get it read by thousands of people daily. Get credit for it. Click here for more details on submitting an article to us.