Boom Boom Satellites Opening for Gary Numan Concert
---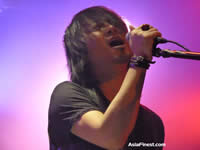 October 23rd, 2010. The popular Japanese electronic music duo, Boom Boom Satellites, opened for Gary Numan's Concert at the Best Buy Theatre located in Times Square, New York. The majority of the concert audience didn't know who Boom Boom Satellites was as they were there for either Rasputina or the main headliner, Gary Numan. But all that changed after Boom Boom Satellites' powerful opening set!



Boom Boom Satellites (Bun Bun Sateraitsu) is a popular Japanese electronic music duo consisting of guitarist and vocalist Michiyuki Kawashima and bassist and programmer Masayuki Nakano along with. drummer Yoko Fukuda. Boom Boom Satellites was in New York as part of their month long tour throughout the United States. Their first stop in the US was at the New York Comic Con which AsiaFinest was also on hand to cover. The Gary Numan Concert was the last show in NY before Boom Boom Satellites headed to California.

Boom Boom Satellites kicked off the concert so well that people felt bad for Rasputina who came after them. It was a very hard act to follow. Boom Boom Satellites played their popular songs with crowd favorites such as Back On My Feet, Moment I Count, What Goes Around Comes Around, Dig The New Breed, and ended their opening set with Kick It Out. Boom Boom Satellites just blew everyone away right from the start. Yoko Fukuda's skills on the drums was incredible. The whole opening set was high energy. It hyped everyone and had people moving to the beat. The only negative thing about Boom Boom Satellites' opening set was the seizure inducing lighting. It was insanely bright one second then dark the next second. Most didn't care as they had their eyes closed and was too busy head banging to the awesome music.

Concert Attendees reactions to Boom Boom Satellites
We asked Lynda Derosa from New Jersey on her opinion of Boom Boom Satellites after seeing them perform for the first time. Please note that the interview video is very dark. Although AsiaFinest was invited there to cover the event, videos recording was not allowed for the concert. This is a transcript of what Lynda said in the video. "I've never heard of them before, and tonight for the first time, they're absolutely the most the amazing band I have heard in years. Phenomenal. Every song was incredible. Their drummer blew my mind. I have never seen anything like that. It was worth coming here just to see them. Really amazing, really really great. I hope to see a lot more of them to come. I really do."

Other attendees from the Gary Numan's concert felt the same sentiment as Lynda after experiencing Boom Boom Satellites' incredible opening act. Everyone was telling each other how great it was and wondering who they were. We gladly educated them about Boom Boom Satellites!

It's a shame that Boom Boom Satellites was just an opening number. We would love to see a whole concert dedicated to them instead. Even some of the attendees who came to see Gary Numan said that Boom Boom Satellites was the best part out of the entire concert! Although we could write about Gary Numan and Rasputina too, we'll save that for another write-up. This review is focused only on Boom Boom Satellites. They definitely gained a lot of new fans and respect after that night. Their live performance is amazing and should be experienced by everyone. If you don't know about Boom Boom Satellites, then we recommend that you quickly check out their music!

Review written by Ben Li of AsiaFinest.com.


Boom Boom Satellites Concert Pictures || Boom Boom Satellites Products

If you have any pictures from this event, please send it to us and we'll credit you for it. Talk about this event in our friendly discussion forum! Be sure to check out our other reviews. Write an Asian related article, and get it read by thousands of people daily. Get credit for it. Click here for more details on submitting an article to us.