New York Chinatown Gala Fashion Show 2007
---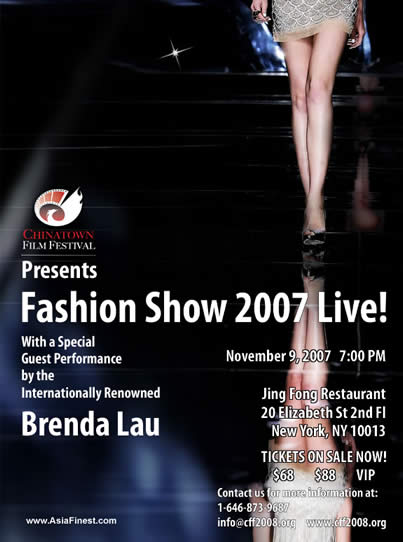 On November 9th, 2007 Chinatown Film Festival(CFF) will host a major "Fashion Show Gala" event. This event will be held at the famous "Jing Fong Restaurant" located on Elizabeth Street, in New York City's Chinatown. "Jing Fong Restaurant" will accommodate over 1,000 (one thousand) persons and CFF expects over 1,000 persons to attend. CFF's "Fashion Show Gala" event will feature fashion designs by top Asian fashion designers. CFF is pleased to announce that Guy Laroche, a top apparel company known for only the very finest in fashion design, has agreed to become the CFF sponsor for both this exciting event and for future CFF events. The fashion show is curated by Simone Tarantino, a renowned presence in the fashion world.



Each year, in October and February, mid-town New York City celebrates "fashion week." While in past years Fashion week was a "trade only" event allowing fashion designers or "houses" to display their latest collections, today Fashion week is a major entertainment and media event boasting Runway shows and is attended by buyers for major stores, publicists, public relation consultants, media, celebrities, and members of the entertainment industry. Fashion week has become a tourist event and an extravaganza by incorporating live musicians, celebrity guests, lavish galas, and charity events. Fashion week even extends to expositions which display handbags, jewelry, shoes, hats, and cosmetics.

Chinatown Film Festival is proud to announce that the internationally renowned singer, Brenda Lau, will be performing on the night of the event. With the support of international celebrities, the CFF will do its best to make this a memorable night for all of our audiences.

New York Chinatown Gala Fashion Show 2007 Review

Chinatown Film Festival is happy to announce that the 2007 Chinatown Fashion Show Gala Event was a huge success.

We had more than 700 attendees present as well as more than 85 members of various Asian and non-Asian media including but not limited to International Television from Asia, America and Europe, various well publicized Entertainment Magazines, dozens of photographers and many more.

The Fashion Show was a big hit as designers of all cultures gathered with us together to show to the rest of the world that Chinatown can be something special. The designers that were present during the show were Guy Laroche, Dasgupta, Jennifer Taves, Virketyne, Confident Couture, Sohung Designs, Akifumi Shimizu and the CFG Boutique. With the help of all the designers contributing their beautiful designs we were able to show the rest of the world that different is beautiful. Following the Fashion show, we had various performances in the Chinese language from two Caucasian American performers Jillian Steward and Nick Cuccia. The performances captured the hearts of both the Chinese attendees and the non-Chinese attendees.

The final performance was from a very talented Asian-Spanish performer Brenda Lau, who with her vocal presence astounded the audience as she sang so beautifully in Spanish, English and Mandarin Chinese.

AsiaFinest.com was there to cover the event. We had our own review on the event, but we pretty much agreed with CFF that the event was a success. Not only were we treated to a wonderful dinner, we was able to enjoy a beautiful and stylish fashion by various designers. Everything from beautiful dress to sexy lingerie. To top it off, there was a few amazing performances that everyone at the event enjoyed. All that plus there were freebies and giveaways during the event. It's not often that NYC's Chinatown gets a Fashion Show, so hopefully this will be the first of many to come! Be sure to check out all our pictures and videos from this event.



NY Chinatown Gala Fashion Show Pictures || NY Chinatown Gala Fashion Show Videos


Talk about New York Chinatown Gala Fashion Show 2007 in our friendly discussion forum! Be sure to check out our other reviews. Write an Asian related article, and get it read by thousands of people daily. Get credit for it. Click here for more details on submitting an article to us.