Chinese New Year Spectacular: Behind the Scenes
---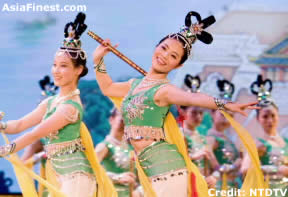 Watch the divine beauty of the east being brought to magnificent life. Join the breathtaking journey into an ancient world of myths and legends, heavenly beauties, and exhilarating drummers. Featuring an outstanding cast of international vocalists, musicians, and dancers, this is a unique cross-cultural experience not to be missed.

New Tang Dynasty Television (NTDTV) proudly presents 2007 Chinese New Year Spectacular at the Radio City Music Hall in New York City from February 14th till 17th of 2007. From the legendary tales in the Chinese history to the heavenly fairy beauties, from the soothing classic melody to the traditional folk dances, the Chinese New Year Spectacular is a work of beauty and inspiration, celebrating the wonder of ancient Chinese culture through a combination of world-class music and dance performances. It is sure to dazzle the eyes, ears and heart, and to leave you with the memory of a lifetime.

NTDTV's Chinese New Year Spectacular received great success in the last three years. It was performed in North America, Europe and Asia, including John F. Kennedy Arts Performing Center, Radio City and Madison Square Garden. The 2007 Spectacular will be performed at 30 cities worldwide to meet the high demand.



AsiaFinest.com attended NTDTV's "Behind the Scenes" event at the classy Jumeirah Essex House in Manhattan on January 29th, 2006. It was an informative press event where we were given a quick preview of the Chinese New Year Spectacular. There was a few speakers at the "Behind the Scene", which included NTDTV's Senior Vice-President Dr. Samuel Zhou's. Dr Zhou talked about how the show isn't tolerated by the Chinese Communist government and NTD has faced a systematic campaign of slander and obstruction by Chinese diplomatic missions since day one. Dr. Zhou said, "They're afraid of things that embrace traditional culture and values because Communism is not Chinese... it advocates things like violent revolution and class struggle, which is very much at odds with Chinese traditional culture." He added, "It's a cultural conflict."

Judging from the quick preview, the Chinese New Year Spectacular is an unique performance event that showcases Chinese culture and values. If you're interested in see the Chinese New Year Spectacular, you can purchase tickets here at: http://ticket.ntdtv.com/ AsiaFinest.com will try to attend the performance and post a review up shortly. Please check back soon for pictures and videos from the "Behind the Scene" press event.



Press Conference's Pictures (Coming Soon) || Press Conference's Videos (Coming Soon)


We have pictures and videos coverage from the event. Be sure to check them out. If you have any pictures or videos from the Chinese New Year Spectacular, please send it to us and we'll post it up.

Talk about the Chinese New Year Spectacular in our friendly discussion forum! Be sure to check out our other reviews. Write an Asian related article, and get it read by thousands of people daily. Get credit for it. Click here for more details on submitting an article to us.