Jay Chou World Tour 2008 Mohegan Sun Arena Concert
---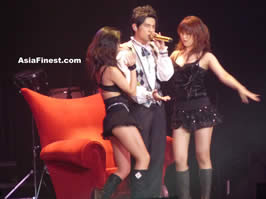 During the winter season, birds migrate south of the globe to return to its colder climates. However, on December 21st, 2008, a special specie by the name of Jay Chou was the exception and flew west for his World Tour 2008 Concert at the Mohegan Sun Arena.

Kicking off the show with an eye-catching purple suit and a slew of bird feathers attached to his back, the crowd of almost 10,000 went wild at the first sight of Jay. Throughout the 2-hour-plus concert, he won the audience with his charm, wit and performances of songs including, Golden Armor, Silence, Rainbow, Snowlike Hair, Listen to Mom's Words and Black Humor.

During the show, Jay found numerous ways to display his appreciation for his fans. Some lucky concertgoers got souvenirs from the man himself when he threw his nunchucks and Chinese yo-yo to the seating area. Indeed, this could have caused some major bruising on several heads, but would one really complain about getting hit by the King of Mandopop? Jay then went the extra mile and made the attempt to greet fans offstage. Although he did tell the audience politely how he was a bit worried about his safety, Jay held his head high and braved the frenzy he was about to create. It was not a surprise to see a landslide of people take this opportunity to touch (or – for the diehard female fanatics – a taste) of Jay. Security guards eventually had to usher him back onstage, but on a serious note – thumbs up to Jay for the effort!

Nan Quan Mama made a special appearance and performed several hit songs including, What Can I Do. Lara looked cuter than ever in her red tunic dress, and fans went crazy when Yu Hao of Nan Quan Mama teamed up with Jay to perform the piano battle scene from the movie, Secret, starring Jay as the lead actor.




Towards the end of the concert, a special video message from international superstar Jet Li made its way onto the Jumbotron. He expressed his admiration for Jay's ability to "combine traditional Chinese culture with pop music," and even called him "everyone's idol." Jay Chou may not be known in all corners of this world, but he did get all the grandparents, children and friends of all ages in the Mohegan Sun Arena on their feet swaying their hands in the air and enjoying the glowing presence of this popstar.

Earlier this year, Jay released his 9th studio album, Capricorn, featuring the hit songs Rice Aroma and Snake Dance. This disc broke his previous record of pre-order sales, with more than 90,000 copies ordered.

Jay Chou is indeed a fly specie, so would it be too much to ask him for him to migrate here every season?

Review written by OfficiallyNana of AsiaFinest.com.


Jay Chou Concert Pictures || Jay Chou Profile


We have pictures and videos coverage from the event. Be sure to check them out. If you have any pictures or videos from Jay Chou Concert, please send it to us and we'll post it up.

Talk about Jay Chou World Tour Concert in our friendly discussion forum! Be sure to check out our other reviews. Write an Asian related article, and get it read by thousands of people daily. Get credit for it. Click here for more details on submitting an article to us.