Jolin Tsai Dance Forever World Tour 2006 Concert
---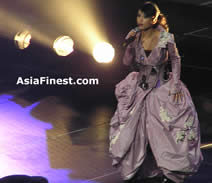 Taiwan's megastar, Jolin Tsai, gave her fans in America an early Christmas present this year by performing her hit songs and strutting seductive dance moves during her Dance Forever World Tour Concert at the Mohegan Sun Arena on November 23rd 2006.

The pop princess started off on the wrong key when her hands-free microphone failed to work(video). Despite having a backstage crew member attempt to fix her mic onstage, her voice was absent until the latter half of the second song. Blatantly upset about the situation, she still continued performing and doing what she does best – making girls envy her amazing singing/dancing skills and melting the hearts of all her diehard male fans with risqué outfits exposing her womanly assets.

During the first half of her two-hour concert, she sung a number of fast-paced tracks such as Mr. Q, Look at Me Change, and Pulchritude. It was no surprised that she managed to make it sizzling hot on this chilly Thanksgiving Day in Connecticut.



While she went for a wardrobe change, Sam Lee Sheng Jie occupied the audience with two of his popular tracks, Absolute Foolish Heart and Let Go of Hand. The 33-year-old Taiwanese singer impressed the crowd with his wonderful vocal skills and tuneful songs. Although his name may not be as well known as Jolin Tsai, he may be worth keeping an eye out for.

In the second act, Jolin finally slowed it down with more mellow tones such as Rewind and Repeated Signals.

The Taipei-born singer broke into the entertainment industry at the young age of 18 and has a strong fan base in Asia and the US after years of chart-topping hits. She released her biggest album in May 2006 called Dancing Diva, and it has already sold over 2 million copies in Asia and is one of the leading selling albums of the year in Taiwan. Was she done for the year? Of course not. In October 2006, she released yet another album called Dancing Forever – collaborating with David Tao in a duet and singing songs performed by previous divas, Sandy Lam and Faye Wong.

By the end of the concert, Jolin kept a smile on her face despite a growing number of empty seats in the arena. She graciously swayed and swirled her hips in captivating dance moves and perfectly ended the night with her hit song, "Dancing Diva." So a little note to ABBA – there may just be a new "Dancing Queen" in town.

Review written by Norina Li of AsiaFinest.com.



Jolin Tsai Concert Pictures || Jolin Tsai Concert Videos || Jolin Tsai Profile


We have pictures and videos coverage from the event. Be sure to check them out. If you have any pictures or videos from Jolin Tsai Concert, please send it to us and we'll post it up.

Talk about Jolin Tsai World Tour Concert in our friendly discussion forum! Be sure to check out our other reviews. Write an Asian related article, and get it read by thousands of people daily. Get credit for it. Click here for more details on submitting an article to us.