AsiaFinest Leon Lai: Live in Concert Atlantic City 1998 Review
---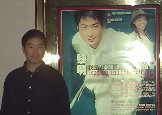 This was a former section from MadCool Entertainment Center. We decided to move it to AsiaFinest's Event Section. We added a review to this section but it'll be short. The concert happen a few years ago, so we'll try to sum it up as best as possible.

Review: Leon Lai, with guest Hsu Chi, held a concert at Atlantic City in 1998. We were given free tickets, and boy were we glad it was free! It was one of the worst concerts that we ever seen! The concert began at 1am (Why so late?!). "I much rather sleep! What a waste of my time!" said Norina. The show was boring and slow tempo. He barely changed costumes (if you can call it that). The audience dressed better than him! His songs were slow, and he barely used the stage. Hsu Chi sang like 2 songs and that was it.



In the end, the torture went on for around 2 hours or less. We highly recommend that you save your money and buy his concerts on DVD or VCD instead.

Check out the concert pictures that we took! The thumbnails came out dark so click them to see the clearer pictures.

If you have any pictures from this event, please send it to us and we'll credit you for it. Talk about this event in our friendly discussion forum! Be sure to check out our other reviews. Write an Asian related article, and get it read by thousands of people daily. Get credit for it. Click here for more details on submitting an article to us.