Nahki Presents Japanese Reggae Live in New York
---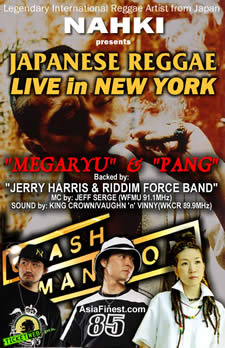 On November 21st, 2006, legendary international reggae artist Nahki from Japan presents "Japanese Reggae Live in New York" at the popular Crash Mansion. An East meet West music event featuring some of the top reggae stars in Japan. Backed by Jerry Harris & Riddim Force Band with MC by Jeff Serge from WFMU 91.1MHz, and sound by King Crown/Vaughn and Vinny from WKCR 89.9 Mhz. Tickets was $10 if purchased in advance, and $15 if tickets was purchased at the door.

Crash Mansion, located at 199 Bowery St in NY, was the selected venue for this event. A bar lounge area where you can order food, with a stage and dance floor for people to groove to. The place could hold up to 150 people, which gives you a sense of being packed in with not much space to move. The show was started a little past 9pm with Jerry Harris & Riddim Force Band warming the crowd up before the main event. Nahki then kick started the show and energized the crowd with his songs. After his performance was done, he introduced the crowd to the next act, Megaryu.

Megaryu is number 1 on National Chart in Japan in 2006, and is appearing for the 1st time in New York. The reggae duo performed their hit songs and was definitely a crowd favorite. Next up to the stage was Pang, the Brightest Hope Reggae Diva from Japan. Sporting a shaved head, she performed her hits as well, which included her reggae rendition of Twist and Shout.
Nahki came back out to perform after Pang finished her set. He closed out the show with his final performances. Overall this Japanese reggae event was enjoyable to all reggae fans. Crash Mansion looked like a full house. The audience had fun and loved the show, and AsiaFinest.com was glad to be there to cover it.



Nahki Presents Japanese Reggae Live's Pictures || Nahki Presents Japanese Reggae Live's Videos



We have pictures and videos coverage from the event. Be sure to check them out. If you have any pictures or videos from Nahki Presents Japanese Reggae Live please send it to us and we'll post it up.




Talk about Nahki Presents Japanese Reggae Live in our friendly discussion forum! Be sure to check out our other reviews. Write an Asian related article, and get it read by thousands of people daily. Get credit for it. Click here for more details on submitting an article to us.