New York Comic Con 2013 Review
---
Thursday, October 11th - Sunday, October 14th, 2013



New York Comic Con 2013 was a four-day entertainment event held in New York City's Jacob K. Javits Center. The annual event is so popular that we decided to include a write up on the ticket buying process this year. The NY Comic Con (NYCC) 2013 featured a host of special guests from all forms of pop culture. There is a wide range of activities to choose from including a massive exhibit hall, panel discussions, screenings, art exhibitions, concert performances, cosplay, meet the guests receptions, and much more. AsiaFinest was at the NYCC all four days to cover as much as possible. The New York Comic Con was bigger and better than ever! For the first time ever, NYCC started using a RFID chip inside the admission badge for everyone. Every person had to "tap" in when they enter the event and "tap" out when they leave the event. AsiaFinest took hundreds of pictures and videos of the NY Comic Con 2013, so be sure to check them out.

Pre New York Comic Con: Getting Comic Con Tickets


Based on the previous New York Comic Con 2012 success, there was a huge demand for the 2013 New York Comic Con months in advance. Tickets were sold out online within weeks of going on sale. People that didn't get a chance to purchase it online had to wait for the retail stores to sell them. When the New York comic book retailer, Midtown Comics, announced the day that they were selling the NYCC tickets, the fans were ready. People camped out overnight by the store. There were over 500 people waiting in line by 8am on the first day when the tickets were available for purchase. The line grew longer as the day went on and stretched for blocks. 3 Days tickets were sold out within hours. People did the same at the other retail locations the following days. 3 days tickets were sold out the same day while the 4 days tickets were sold out within 2 days. The rest of the single day tickets were sold out soon after.


Thursday October 11th: Preview Day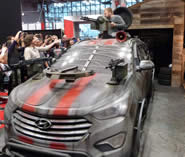 This day was reserved for Professional, Press, VIP, and 4 Days ticket holders only. It was a great way to preview the exhibits before the event kicks off the following day. It was a taste of all the exciting things to come. Is the extra day worth it for a 4 day pass? We definitely recommend it. The lines to the numerous interactive booths are shorter. Robert Kirkman, creator of the Walking Dead, checked out a few Walking Dead related booths, and had a signing later in the day. There was a huge variety of enjoyable panels such as Haven TV show, 60 Years of Bazooka Joe, and an insanely popular Archie Action Hour Panel about Sonic the Hedgehog and Mega Man.

Today was the first time the new badges with RFID chip was being utilized. The attendees was worried about technically errors and long lines entering and leaving the event, but everything went smoothly and people flowed in and out of NYCC with ease.

As a special bonus for Thursday, there was a free comedy show later that evening by The Comedy Mutant! The comedy crew featured Janeane Garofalo, Brian Posehn, Myq Kaplan, Mike Drucker and more. It was an great way to end the evening with hilarious stand up comedy that made you laugh till your stomach hurt.

Friday October 12th: Day 1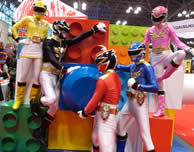 The comic con fans came early and the lines to get into the Javits Center stretched down the block. Once you got past the entrance, the crowd dispersed evenly. The preview from the day before allowed us to plan ahead. Fans rushed to get tickets for various signings and exclusive NYCC exclusives.

One of the popular trends nowadays are products being sold exclusively at comic cons. Not only are the products not sold outside of New York Comic Con, most of the products are limited to a certain number to make it even more rare! The most popular exclusives were Marvel and DC Comics having exclusive NYCC comic books and figures. There was a limited edition Stan Lee Pop! figure. DC Comics were selling rare exclusives NYCC comic variants for their Superman and Batman comic series. DC Comics were also offering the exclusive Poison Ivy figure limited to 2500. Fans had to line up early to get wristband to purchase these exclusive products. Kid Robot had two awesome exclusive this year, a Day of the Dead Mariachi Homer Simpson figure, and a gold vinyl Ryu from the Street Fighter game series figure.

We also checked out all the major booths and exhibits today as we know it would get even more crowded tomorrow. Major exhibits included a South Park exhibit that looked like a street of houses from the South Park show was brought to life. The exhibit was there to promote the new South Park's Stick of Truth video game. Attendees were able to go inside one of the South Park houses and watch a 10 min demo of the "Stick of Truth" game. Other major booths includes Nintendo, Mega Blox, Marvel, and more. There were giveaways, tons of comic artists signing, and other entertaining interactive things to keep attendees interested at each booth. Attendees got to an early sneak peek into upcoming video games such as the new Ubisoft's "Watch Dogs" and Capcom's "Duck Tales" months before it will comes out.

We covered a few of the panels today which include the popular TV shows, "Game of Thrones" "True Blood" and "Falling Skies". The cast from their respective shows came out to talk about their experience and answers any questions audience members might have for them.

We had to leave NYCC before closing time to rush over to the Kid Robot store located in Soho. They had a exclusive launch party for their "Dunny Evolved" line. There was a DJ, open bar, giveaways, and of course artist signing with Frank Kozik, Huck Gee, and Scott Tolleson!

Saturday October 13th: Day 2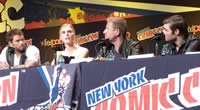 We knew based on our past experiences with NYCC that Saturday was going to be hectic. The lines to get into Jacob Javits Center moved slowly as everyone wanted to enter at the same time when the event opened. There wasn't any lines to get in later on. The cosplayers came out in full force today. Costume characters ranged from old school favorites "Star Wars" and "Mortal Kombat" to the popular TV show "Game of Thrones" and "Dr. Who", and just like last years comic con, a gigantic transforming Bubblebee from Transformers! There was a ton of comic book signings today. Both Marvel Comics and DC Comics had hourly signings featuring some of the most well known artists in the comic industry. Signings for popular artists such as Scott Synder, Greg Pak, and others was over an one hour long wait.

The major panels was also scheduled for today. The main event AMC's The Walking Dead was back at the NYCC with the cast from the hit TV show, as well as the creator of The Walking Dead comic, Robert Kirkman. Other popular panels included Marvel's Agent of S.H.I.E.L.D, Teen Wolf, and Hercules. The biggest complaint that we have heard again this year was that the fans had to wait hours to get into these panels, while a lot of fans weren't able to get in due to the people staying inside the theater from previous panels.

There was a lot of celebrities autograph signings today as well. Some were free due to an online drawing such as the cast of Hercules: The Legend Begins. Other autograph session required payment to meet your favorite celebrity star such as Hulk Hogan, Gillian Anderson, and William Shatner.Later in the evening, there was the NYCC Charity Auction as well as the popular Wikia Cosplay Contest.

We interviewed Comic Con attendee, Dan Blair, from Staten Island, NY, on what his thoughts was for the event so far, and this is what he said: "I have been here every year since they started. I love everything about it and look forward to it each year. The only bad thing is the wait for some of the panels are way too long."

Sunday October 14th: Day 3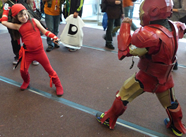 The final day of the the 2013 New York Comic Con. People who been attend NYCC for multiple days were starting to look like the zombie cast from The Walking Dead. Everyone was tired and drained from all the fun and excitement from the previous few days. Even we were starting to feel lethargic from running around to all the different events and panels. The main panels that we covered today were X-Files and Doctor Who. Both panels featured the stars from each TV series and had a Q&A with fans.

As always Sunday was NYCC KIDS day. A great time to bring out the younger audience. Adorable kids came dress as their favorite superheros. A lot of events were geared towards the kids today including Wildlife Mask Making, Kids Costume Parade, and Kidditch (Quidditch Training for Kids)

The merchant area was less crowded today, so we decided that it would be the best time to really check it out thoroughly. A few of the merchants had discounts on their products since it was the last day. A note to our readers, if you see a product that you like during the previous days, then be sure to buy it on the spot. We noticed that a lot of the products were sold out by today. When 5pm came, everyone was tired from the long but fun filled weekend and was clearing out of the Javits Center. You could feel that the attendees were sad that the event was coming to a close. Everyone hung around the convention center area to take pictures and mingled with fellow comic con fans. Everyone was looking forward to NYCC 2014!

Conclusion:
New York Comic Con is always our favorite event of the year to cover! Each year NY Comic Con gets even more bigger and better than the previous years. More visitors were able to enjoy this year's sold out event due to the new RFID chip inside each badge. It prevented people from entering with forged badges, and easily replaced lost badges with new ones. The only negative side to the new RFID chip is that it caused a slight delay and hassle each time you enter and leave the event. NYCC listened to fans and had more Anime related panel and floor space as compared to 2012.

Overall the New York Comic Con is a wonderful experience for everybody. It's not just for anime, comic, and sci-fi fans. There is something for everyone here. All genre of pop-culture entertainment are on display here. We highly recommend that everyone get at least a 3 day pass. You will need all 3 days to truly experience everything. We feel that even the 4 day pass is well worth it with the addition of a kick off event that happens Thursday evening. Plus it gives you a chance to preview most of the event so that you can better plan out your time at the convention. We are definitely looking forward to next year's New York Comic Con 2014. The NYCC will be held at the same place, Jacob K. Javits Center, on October 9th - 12, 2013. We highly recommend that you order your ticket as soon as it becomes available online. We predict that NYCC will only get more popular, and tickets will be in even more demand and sell out even faster. So be sure to mark it on your calendar and we'll hopefully see you there!



New York Comic Con 2013 Pictures || New York Comic Con 2013 Videos


If you have any pictures from this New York Comic Con 2013, please send it to us and we'll credit you for it. Talk about this event in our friendly discussion forum! Be sure to check out our other reviews. Write an Asian related article, and get it read by thousands of people daily. Get credit for it. Click here for more details on submitting an article to us.