New York Comic Con 2014 Review
---
Thursday, October 9th - Sunday, October 12th, 2014



New York Comic Con 2014 was a four-day entertainment event held in New York City's Jacob K. Javits Center. The annual event is so popular that this year ReedPop debuted Super Week. A week long pop culture festival featuring gaming events, a comedy shows, and even musical guest Morning Musume. It was a great way to build up excitement leading up to the main event that everyone was waiting for all year, New York Comic Con 2014! The NY Comic Con (NYCC) 2014 featured a host of special guests from all forms of pop culture. There is a wide range of activities to choose from including a massive exhibit hall, panel discussions, screenings, art exhibitions, concert performances, cosplay, meet the guests receptions, and much more. AsiaFinest was at the NYCC all four days to cover as much as possible. The New York Comic Con 2014 was bigger and better than ever with over 151,000 attendees! AsiaFinest took hundreds of pictures and videos of the NY Comic Con 2014, so be sure to check them out.

Pre New York Comic Con: Getting Comic Con Tickets


Based on the previous New York Comic Con success, there was a huge demand for the 2014 New York Comic Con months in advance. Tickets were sold out online within the first hour. Visitors to the New York Comic Con website were placed on a huge virtual queue list the moment the tickets went on sale, and even then not everyone was able to purchase a ticket online. It's like trying to buy a ticket to any insanely popular concert, most would be sold out in minutes. People that didn't get a chance to purchase it online had to wait for the retail stores to sell them. When the New York comic book retailer, Midtown Comics, announced the day that they were selling the NYCC tickets, the fans were ready. People started camping out the evening before by the downtown store. There were over 800 people waiting in line by 3am, and well over 2000 by noon on the first day when the tickets were available for purchase. The line grew longer as the day went on and stretched for blocks. 3 Days tickets were sold out within hours. People did the same for the following day and camped over night at the other retail locations the next day. 3 days tickets were sold out the same day while the 4 days tickets and Saturday tickets were sold out within 2 days. The rest of the single day tickets were sold out soon after.


Thursday October 9th: Day 1

This day was reserved for Professional, Press, VIP, and 4 Days ticket holders only. It was a great way to preview the exhibits before the event kicks off the following day. It was a taste of all the exciting things to come. Is the extra day worth it for a 4 day pass? We definitely recommend it. The lines to the numerous interactive booths are shorter and a lot of the rare NYCC exclusives was available for purchase on the first day this year. ReedPop, the company behind NYCC, did a great job listening to cosplayers from the previous year. There was an emphasis on anti-harrassment this year. There were Cosplay is not consent signs posted all around the convention area.

Normally we would call Thursday a preview day for New York Comic Con, but NYCC has became so popular that even Thursday is jam packed with great panels, screenings, and signings. Major panels at the main stage included Walt Disney Studios offering a first look at Tomorrowland and Big Hero 6. The voice actors(pictured left) was also here for the panel. Popular TV series such as Bob's Burgers had panel offering exclusive previews. Popular signings included Robert Kirkman(creator of the Walking Dead and Scott Snyder(Batman writer).

The United States Postal Service also launched a limited edition Batman stamps at NYCC. Greg Breeding, Batman stampsheet designer, was there signing free posters for the event.

Friday October 10th: Day 2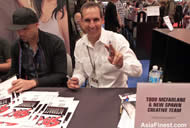 The comic con fans came early and the lines to get into the Javits Center stretched down the block. Soon after the door opened, the crowd dispersed evenly. Fans rushed to get tickets for various signings and exclusive NYCC exclusives.

One of the popular trends nowadays are products being sold exclusively at comic cons. Not only are the products not sold outside of New York Comic Con, most of the products are limited to a certain number to make it even more rare! The most popular exclusives were Marvel and DC Comics having exclusive NYCC comic books and figures. There was a limited edition Stan Lee Pop! figure again this year. DC Comics were selling rare exclusives NYCC comic variants for their Superman and Batman comic series. Bandai were offering the exclusive Godzilla movie figure and Mighty Morphin POWER RANGERS Metallic Green Ranger, both was only sold at NYCC. Fans had to line up early to get ticket to purchase these exclusive products.

We checked out all the major booths and exhibits today as we know it would get even more crowded tomorrow. Major exhibits included a How to Train Your Dragon 2 virtual reality booth and an life size Smaug the dragon's head atop of the Weta booth. Just Dance was a familiar booth from previous years, showcasing their newest game version by letting attendees dance on stage. Other major booths includes Nintendo, Mega Blox, Marvel, and more. There were giveaways, tons of comic artists signing, and other entertaining interactive things to keep attendees interested at each booth. Attendees got to an early sneak peek into upcoming video games such as the new Capcom's "Resident Evil Revelation 2" and Bandai's "Dark Souls 2" months before it will comes out.

We covered a few of the panels today which include the popular TV shows, "Elementary" "Archer" and "Marvel's Agent of Shield". The cast from their respective shows came out to talk about their experience and answers any questions audience members might have for them.

A rare appearance by Takeshi Obata, the manga artist behind acclaimed series such as Death Note, Bakuman, and All You Need is Kill, was here today for a panel and signing.

Saturday October 11th: Day 3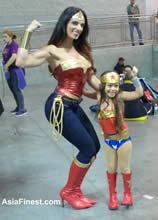 The cosplayers came out in full force today. Costume characters ranged from old school favorites "Sonic the Hedgehog" and "X-Men" to the popular TV show "Game of Thrones" and "Dr. Who", and just like the previous few years at comic con, a gigantic transforming Bubblebee from Transformers! There was a ton of comic book signings today. Both Marvel Comics and DC Comics had hourly signings featuring some of the most well known artists in the comic industry. Signings for popular artists such as Scott Synder, Greg Pak, and others was over an one hour long wait.

The major panels was also scheduled for today. The main event AMC's The Walking Dead was back at the NYCC with the cast from the hit TV show, as well as the creator of The Walking Dead comic, Robert Kirkman. Other popular panels included Marvel's DareDevil. The biggest complaint that we have heard again this year was that the fans had to wait hours to get into these panels, while a lot of fans weren't able to get in due to the people staying inside the theater from previous panels.

There was a lot of celebrities autograph signings today as well. Most autograph session required payment to meet your favorite celebrity star such as Hulk Hogan, Gillian Anderson, and William Shatner. Later in the evening, there was the NYCC Charity Auction and the debut of the Eastern Championships of Cosplay. This is the first stop in the "Quest for the Crown", a new global Cosplay competition circuit. This event brought out the best in cosplayers. There was so many outstanding cosplayers this year. The winner was Michael Wong with a very impressive Dragon Rider design. Second place went to Julian Keller who came as General Zod, and third place went to Adrian Aroche as Skull Kid.

Sunday October 12th: Day 4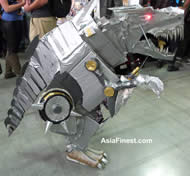 The final day of the the 2014 New York Comic Con. With the addition of New York Super Week, people who have attended NYCC for multiple days were starting to look like the zombie cast from The Walking Dead. Everyone was tired and drained from all the fun and excitement from the previous few days. Even we were starting to feel lethargic from running around to all the different events and panels, and looked like pandas from the lack of sleep. The main panels that we covered today were The Following and Gothan. Both panels featured the stars from each TV series and had a Q&A with fans.

As always Sunday was NYCC KIDS day. A great time to bring out the younger audience. Cute and adorable kids came dress as their favorite superheros. One of our favorite was a child in a Grimlock (from Transformer. pictured right) costume. A lot of events were geared towards the kids today including Make your own Superhero Mask, Kids Costume Parade, and Harry Potter: The Art of Wand Dueling

The merchant area was less crowded today, so we decided that it would be the best time to really check it out thoroughly. A few of the merchants had discounts on their products since it was the last day. A note to our readers, if you see a product that you like during the previous days, then be sure to buy it on the spot. We noticed that a lot of the products were sold out by today. By the time 4pm came, everyone was tired from the long but fun filled weekend and was clearing out of the Javits Center. You could feel that the attendees were sad that the event was coming to a close. Everyone hung around the convention center area to take pictures and mingled with fellow comic con fans. We interview a few fans and everyone that we spoke with was looking forward to NYCC 2015.

Conclusion:
New York Comic Con is always our favorite event of the year to cover! Each year NY Comic Con gets even more bigger and better than the previous years. New York Comic Con attracted over 151,000 attendees in 2014, making it the largest comic book and pop culture gathering in the country. This was the second year that they used the RFID chip in the badge, and everything went a lot smoother than the previous year.

Overall the New York Comic Con is a wonderful experience for everybody. It's not just for anime, comic, and sci-fi fans. There is something for everyone here. All genre of pop-culture entertainment are on display here. We highly recommend that everyone get at least a 3 day pass. You will need all 3 days to truly experience everything. We feel that even the 4 day pass is well worth it because it gives you a chance to preview most of the event so that you can better plan out your time at the convention. We are definitely looking forward to next year's New York Comic Con 2015. The NYCC will be held at the same place, Jacob K. Javits Center, on October 8th - 11th, 2015. We highly recommend that you order your ticket as soon as it becomes available online. We predict that NYCC will only get more popular, and tickets will be in even more demand and sell out even faster. So be sure to mark it on your calendar and we'll hopefully see you there!



New York Comic Con 2014 Pictures || New York Comic Con 2014 Videos


If you have any pictures from this New York Comic Con 2014, please send it to us and we'll credit you for it. Be sure to check out our other reviews. Write an Asian related article, and get it read by thousands of people daily. Get credit for it. Click here for more details on submitting an article to us.