New York–Tokyo Music Festival 2006
---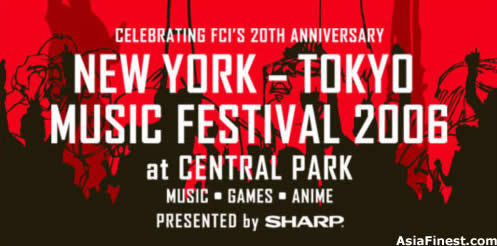 SEPTEMBER 30th, 2006. CENTRAL PARK, NYC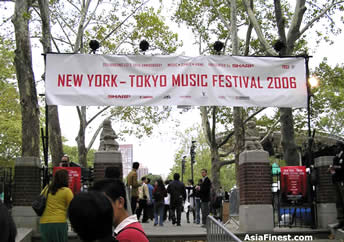 AsiaFinest.com was on hand to proudly support the second annual New York–Tokyo Music Festival. On Saturday, September 30, 2006 at Rumsey Playfield in Central Park, this free event focused on bringing artists from the East and the West to expose their impressive talents. In one location, music lovers were able to experience hip-hop, break beats, jazz, traditional Japanese drums, and reggae.

Before the live entertainment began, people of all ages were able to enjoy the freebies from the event's sponsors. There was something for everyone, from Uniqlo's "Tokyo to NY" fashion display in a real-size container to Sharp showcasing its HD televisions with Japanese music videos, Canon's picture opportunity with Maria Sharapova's cardboard cutout to Kyolic's garlic pills giveaways. There were even new games for the gamers to test their skills in and previews of a new animation series for the anime addicts. Once it was time for the live performances, however, festival-goers slowly retreated from the event's booths and made their way to the center stage.



Aun kicked off the musical entertainment with their vivacious act using unique Japanese drums(see video here). B-boy groups followed with their jaw-dropping breakdancing skills. Mighty Crown then turned Rumsey Playfield into a mini-club with their fans bumping and grinding to their reggae mixes. After the dancehall music, Pe'z smoothed the crowd's ears by playing their upbeat jazz hits. Hifana then introduced their human-powered beats using drums, turntables and the infamous MPC (music production center). DJ A-Trak showed us why he was the first disc jockey to win five world championships with his flawless transitions between mixes. And last, but not least, Talib Kweli pulled the most people to the center stage when he performed old and new joints. At this point of the night, it became obvious that people bonded through the universal language of music in spite of different cultural backgrounds.

As the event came to an end, we left with an even deeper appreciation for the fashion, animation, music, and dance of Japan and the Far East. Compared to the first New York–Tokyo Music Festival, this event was definitely a step up. From the bigger venue to the bigger crowd, there was so much more to see and experience. Most of the event attendees had an enjoyable time. Aside from the lack of seating and the high cost of food, everything else from the event was great. Despite the gloomy weather, this festival successfully accentuated the influences, admiration and respect the East and the West have and shares with each other.

Review written by Norina Li from AsiaFinest.com



Event's Pictures || Event's Videos || Interview with NY-Tokyo President


We have pictures and videos coverage from the event. Be sure to check them out as well as our follow up interview with the president of NY-Tokyo. If you have any pictures or videos from the New York–Tokyo Music Festival 2006, please send it to us and we'll post it up.

Talk about New York–Tokyo Music Festival 2006 in our friendly discussion forum! Be sure to check out our other reviews. Write an Asian related article, and get it read by thousands of people daily. Get credit for it. Click here for more details on submitting an article to us.