ABDC Winner Poreotix at Club Amnesia
---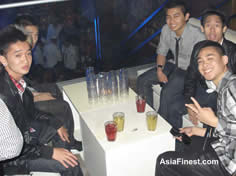 The champ is here! The popular America Best Dance Crew winners, Poreotix, was in NY during Memorial Day weekend. On Sunday, May 30th, 2010, AsiaFinest.com was partying with Poreotix up in the VIP section of one of New York's hottest club at club Amnesia. It was a great event from start to finish with Playboy's official DJ JUNE rocking the party and a live dance performance by ABDC season 5 winners Poreotix. Be sure to check out our pictures and videos of Poreotix at club Amnesia!

The night started with party goers having a chance to walk on the red carpet and have their picture taken outside of Amnesia. We arrived early at 10pm to check out the club before it got pack. Amnesia had a capacity of 1500+ so there was a lot of room to move around in. Most parties don't really start till midnight and it was the same tonight. The club was popping by midnight. Poreotix arrived shortly before midnight and soon settled down in the Amnesia's 2nd floor VIP section. Soon after that Poreotix was mingling and having fun with party goers up in the VIP section limited to those who brought VIP tickets.



There was various entertainment throughout the night. There were ladies swinging from the ceiling, go go dancers dancing on top of tables, a rap group performing, and even a lady with her violin showcasing her skills. Security soon cleared the dance floor to allow for Poreotix's live performance. Poreotix did what they did best and performed a crowd pleasing 5 min dance routine. The audience went wild and was loving every second of it! After the performance Poreotix hung out around the dance floor for a bit. The members of Poreotix was friendly and down to earth and interacted with everyone. Poreotix left soon after that and the crowd continue partying till the break of dawn.

Poreotix's live performance and friendliness definitely converted people who didn't know about them into fans. The music was hot but at times so loud to a point where your ears would hurt, but other than that everyone had a great time partying till 5am in the morning.

Review written by Ben Li of AsiaFinest.com.


Poreotix at Club Amnesia Pictures || Poreotix at Club Amnesia Videos

If you have any pictures from this event, please send it to us and we'll credit you for it. Talk about this event in our friendly discussion forum! Be sure to check out our other reviews. Write an Asian related article, and get it read by thousands of people daily. Get credit for it. Click here for more details on submitting an article to us.