Se7en's Crossover Career Launch Press Conference in New York
---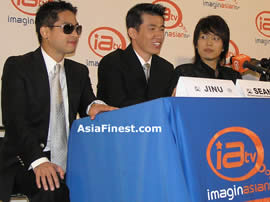 Korean megastar, Se7en, announced his plan to release an English album next year in the US during a press conference in New York at the ImaginAsian TV Theater on October 16, 2006.

"Since the US is the mainland of R&B and hip-hop," Se7en confidently said through a translator, "I want to start a career here and I want to start a new beginning here."

YG Entertainment, Se7en's record label, said that the project will be directed by Mark Shimmel, formerly the CEO for Laface Records and VP of marketing and artist relations for Arista Records. He is prominently known as the producer who worked to create hit records for Usher, Avril Lavigne, TLC, and Toni Braxton. According to Se7en, Shimmel chose to work with the Korean superstar, because he is confident in his success in the US . Rich Harrison, who won a Grammy for writing Beyonce's "Crazy in Love" and worked with Usher and Janet Jackson, will also be involved with Se7en as the producer of his upcoming English album.

"To be releasing an R&B and hip-hop album is achieving my foremost dream," he said. "I would like to be recognized by the US, not just as any Korean singer, but as a solo artist in the US."

Top American singers and rappers are said to be collaborating with Se7en in his debut English album. Usher is rumored to be one of the featured artists – but let's just keep that between Asiafinest and Se7en's diehard fans.



As more people begin to anticipate his upcoming album, some question whether or not his evident lack of English speaking skills will be an issue.

"I haven't had any kind of formal training or lessons on English, but I will start taking lessons soon and I want to express myself in English," he confessed. "In terms of songs, I have no problem understanding the meaning of the lyrics."

Also present at Se7en's Crossover Career Launch Press Conference were Korean hip-hop duo, Jinusean. They are certain that English will not be an issue as Se7en plans to begin working on his album towards the end of October.

"We are very confident in Se7en that he can catch up learning English mostly because he almost mastered Japanese in a year and a half," a very assured Jinu said. Sean then playfully added, "And he mastered Korean."

Se7en held his press conference just days before he was set to perform in Washington, DC, New York, and will then make his way to Los Angeles to wrap up the YG Family 10th Anniversary World Tour. Earlier this year, Rain also held concerts for his world tour in US venues as well.

"I am sure that Rain did a great job, but I want to make sure that we are two different people with two different expressions in terms of music," Se7en said. "I am sure that Rain has his own highlights, but I don't want to be compared in the same category as him."
On a lighter note during the press conference, a young woman did a favor for the rest of Se7en's female fans and asked about his ideal woman.

"Most importantly, I like a girl that's really kindhearted and nice," he said with a slight smirk on his face. "Also I want her to be beautiful and sexy."

For a man who is so driven and passionate in the music industry, it will be no surprise if he becomes the next big thing in America. So for all the Asiafinest's ladies, take note of what he is looking for in a girl because you just might be the one that steals is heart as he finally makes his way to America.

Review written by Norina Li of AsiaFinest.com



Press Conference's Pictures || Press Conference's Videos


We have pictures and videos coverage from the event. Be sure to check them out. If you have any pictures or videos from Se7en's Crossover Career Launch Press Conference, please send it to us and we'll post it up.

Talk about Se7en's Crossover Career Launch Press Conference in our friendly discussion forum! Be sure to check out our other reviews. Write an Asian related article, and get it read by thousands of people daily. Get credit for it. Click here for more details on submitting an article to us.