YG Family New York Madison Square Garden Concert
---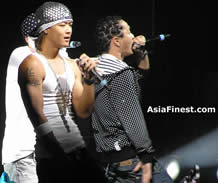 Seven. It may be your lucky number, or the month of your birthday. However, on October 19, 2006, it only meant one thing to New Yorkers. S-E-7-E-N.

The Korean megastar and other members of the YG Family celebrated their record label's 10th anniversary in a "Past, Present and Future" world tour – with stops in Korea, Japan, Washington, DC, Los Angeles, and New York.

Hip-hop duo Jinusean opened the show with an energetic performance of their first hit, Gasoline. And then one after the other, 1TYM, Gummy, Big Mama, Se7en, Lexy, Big Bang and Stony Skunk came on stage to perform their popular hits.

Throughout the whole night at Madison Square Garden, Se7en scored some of the loudest cheers from the audience. He entertained K-pop fans with popular tracks such as Passion, Crazy, I Know, Come Back to Me, and One More Time. Devoted fans screamed and waved their homemade, glittery posters as if it was a part of their daily routine. Some girls even designed their own shirts displaying their love and affection for Se7en. Is this to say that he is the biggest star in the YG Family? Well, if your stage name is Se7en and you have glow-sticks in the shape of the number seven, you are pretty big. Although he may be YG's popular artist of the moment, it would be wrong to say that he was the one who stole the spotlight during the concert.



Jinusean brought the crowd to its feet and waving side-to-side with their performances for Phone Number and Ayo. They may be the OG (aka old gangster) of the whole family, but they still had their touch. 1TYM also made the audience go crazy by performing old school favorites such as Hot, Without You, and Nasty. Big Bang, the newest addition to the YG Family, performed hits from their singles as well. They might have just debuted in August 2006, but the girls screamed for them as if they have been in the industry for years. Also there to mix up the hip-hop songs was reggae duo Stony Skunk. They turned MSG to a reggae dancehall and performed a remix to a familiar hit –Bob Marley's No Woman No Cry. The female artists of the YG Family gave phenomenal performances as well.

R&B singer Gummy and the female quartet Big Mama blew the audience away with their vocal power. Lexy got people moving to her dance songs such as Girls and Let Me Dance. Needless to say, the YG concert was three-hours of nonstop entertainment.

For the last segment of the night, the entire family came on stage for the big finale. Se7en jumped around, sang his heart out, and even poured water from his bottle to lucky members in the audience. The rest of the YG Family joined his adrenaline rush did what they did best – entertain with passion.

There were a lot of memorable moments about this night at Madison Square Garden. However, the best thing about this evening was that for a small fraction of our lives, it felt as if we were a part of the YG family. We were all able to connect and communicate through our love for music. For those who missed this rare opportunity, there is always the YG Family 10th Anniversary Special Album, or you can check out our exclusive pictures and videos. It's not the same experience, but heck – it's better than nothing.

Review written by Norina Li of AsiaFinest.com.



YG Family Concert Pictures || YG Family Concert Videos


We have pictures and videos coverage from the event. Be sure to check them out. If you have any pictures or videos from YG Family Concert, please send it to us and we'll post it up.

Talk about YG Family Concert in our friendly discussion forum! Be sure to check out our other reviews. Write an Asian related article, and get it read by thousands of people daily. Get credit for it. Click here for more details on submitting an article to us.