The Green Hornet Movie Review
---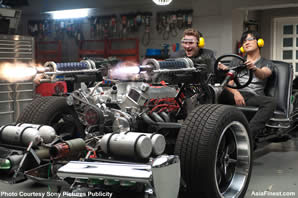 AsiaFinest was invited to a special advance screening of the movie, The Green Hornet, starring Chinese superstar Jay Chou . Read below for AsiaFinest's review of the movie The Green Hornet. Be sure to also check out our exclusive interview with Jay Chou on The Green Hornet movie!

Look out Hollywood, there's a new crime-fighting duo in town and they are ready to show America how to put the bad guys in their place without capes, elastic pants or even mutated superpowers! Alas, please welcome The Green Hornet.

Britt Reid (Seth Rogen) is the son of a wealthy newspaper mogul and leads a spoiled lifestyle of nonstop partying until his father (Tom Wilkinson) mysteriously passes away. After inheriting this media empire, he meets an employee, Kato (Jay Chou), who is more than meets the eye. Seeing that Kato wastes his industrious and inventive capabilities, Britt comes up with the genius idea of becoming crime-fighters and forms labels himself as the Green Hornet. With the help of his new secretary, Lenore Case (Cameron Diaz), the duo departs on a adventurous journey of fighting crime in Los Angeles.

So what happens when you combine a comedic actor with the "Justin Timberlake" of Asia? Well – surprisingly good things happen. This odd pair's onscreen chemistry reflected astonishingly well and made the relationship between both characters seem effortless. Despite having Seth play the lead role as the Green Hornet, Jay definitely stole the thunder in the movie. Okay – his dialogue was limited and his pronunciations needed a tad work, but that was all in his character. As the movie gets deeper into the plot, it was apparent that he expressed himself through his impressive martial arts skills. Jay certainly made beating up a crowd of criminals seem like it was just a part of his daily routine. One might have thought he was Jackie Chan's protégé instead of the King of Asian Pop.



In addition to all the explosions, stunts and matrix-style fights, one might find it hard to disagree that the Black Beauty was the third sidekick. Even for those that may not be into cars, they would be mesmerized by – well, its beauty. After much development with car manufacturers and designers, production finally decided on sticking to the same model used in the television series – Chrysler Imperial Crown – but with a modern twist. Machine guns, missiles, flamethrowers, shotguns – check. Front-end suicide doors – check. Ejector seat system – check. Thirsty for a cold drink? There's also an ice maker. Yes – this is the ultimate adult toy that totally helps boost The Green Hornet's cool factor.

Overall, this action comedy was definitely an upgrade from the 1930's original radio series. Although the movie may have gotten mixed reviews from the development hell that began in the early 1990's with A-list actors dropping out and the change of movie studios, don't let that refrain anyone from watching this movie. With the right cast, a great director and perhaps a sprinkle of some Hollywood magic – The Green Hornet will make its mark in the sea of superhero films. Anyone ready for a sequel?

The Green Hornet opens nationwide on January 14th, 2011. Movie review written by Norina Li of AsiaFinest.com

Talk about this movie in our friendly discussion forum! Be sure to check out our other reviews. Write an Asian related article, and get it read by thousands of people daily. Get credit for it. Click here for more details on submitting an article to us.