AsiaFinest New York Tokyo Music Festival 2002 Review
---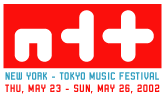 For the first time ever in North America, New York-Tokyo is bringing all the frantic energy, eye-candy, techno-cool, creativity and innovation that is contemporary Japanese music scene, to New York City. This Memorial Day weekend (May 23-26), the Japanese and the U.S. Music worlds will collide and nothing will ever be the same again: pop, rock, and dance artists, DJs, producers, songwriters, entertainment industry executives, media, and, of course, the fans will come together for live performances, as well as cultural and music industry symposium. By showcasing Japanese and domestic artists, the festival will also serve as an outlet for talent scouting and business interaction between entertainment industry executives from Japan and the U.S.

Starting on May 23rd, with the symposium hosted by Japan Society, and then continuing with live performances, parties, and expos at South Street Seaport and Pier 63/Fryingpan, the festival will feature, among others, Hex Hector's world-spinning rhythms, electronic wizardry of Nobukazu Takemura and Tsuyuko Aki, philosophical turntablism of DJ Spooky, groovy retro-pop musical aesthetic of Fantastic Plastic Machine, quintessential J-pop of BoA, Kumi Koda, and Mayu Kitaki, and Zento's trance-tacular sonic and visual feast.



If more than anything else, this will be a unique opportunity for Americans to see and hear for themselves that, as Billboard's Steve McClure has put it, "some of the most interesting, challenging, and just plain good music being made on the planet today comes from Japan." Indeed, by listening to sounds emanating from Tokyo, we will know the future of pop music.

Confirmed Artists
From Japan: BoA, Kumi Koda, Zento, Fantastic Plastic Machine, Mayu Kitaki, Nobukazu Takemura, Tsuyuko Aki, Yukihiro Fukutomi and more.

From the U.S.: Hex Hector, DJ Spooky, DJ Kaori, Rich Medina, DJ Language, Wunmi, John Hunter, Mark Shimmon, John Wander and more.

Review:
We attended the Tokyo Music Festival on May 24 at South St Seaport in NYC. It took us a while to find the exact location of the performance, but found it just in time for the performance. The show didn't begin till 10pm due to a delay. No pictures was allow. They warn that if anyone took pictures during the show, they would stop the show. Each performer sang 2-3 songs. Of course the main performer of the event was BoA. She got the loudest cheers out of everyone. The crowd was pretty dead sometimes. By midnight the performers has already finished and left, but the stage floor was now a club dance floor with a DJ spinning techno music till 3-4am.

We had access to the Press Party thanks to a lady from a Tokyo Fashion Magazine. We were able to meet some of the performers such as Mayu Kitaki, Boa's Dancers and more. Check out the picture gallery for the pictures that we took with them. We had more pictures, but some didn't develop! :(

Overall we met a lot of cool people including a joke cracking security guard. The show was too short, but most people thought it was well worth the $35 tickets that they paid. We definitely would go again if they have this event next year!

If you have any pictures from this event, please send it to us and we'll credit you for it. Talk about this event in our friendly discussion forum! Be sure to check out our other reviews. Write an Asian related article, and get it read by thousands of people daily. Get credit for it. Click here for more details on submitting an article to us.