AsiaFinest Snakebyte Wii Premium Remote XL+ Controller Review
---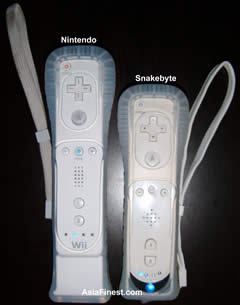 The snakebyte™ Premium Remote XL+ Controller is an all-in-one solution for every Wii® player who demands optimum performance from a controller. As an extra value, the Premium Remote XL+ has integrated batteries that are charged via an extended USB cable at any time, eliminating the use of charging stations or regular batteries, and saving you money. AsiaFinest gave the controller a thorough test drive by testing the quality and compatibility with various games. Check out our review below!

Snakebyte™ Wii Premium Remote XL+ Controller's features include:

* Unique intuitive game play through Motion sensing
* Play with up to 4 Premium Remote XL+ controllers simultaneously
* Integrated speakers for realistic spatial SFX
* Integrated memory for settings and avatars
* Strong vibration effects
* Chargeable batteries and a USB charging cable included
* External SYNC button for easy synching to the console

Within the package of snakebyte™ Wii Remote XL+, you'll receive the following:

* 1 Remote XL+ Controller
* 2 Security Wrist Straps
* 2 Energizer Ni-MH Rechargeable Batteries
* 1 USB Charging Cable
* 1 Screwdriver

Review:


I opened the snakebyte™ Wii Premium Remote XL+ Controller packaging and was surprised to find out that the batteries were high capacity branded Energizer Ni-MH Rechargeable Batteries instead of some cheap no name branded batteries. I noticed that the back plate holding the batteries in was held tight by a screw. At first I thought why would they use this method instead of the original design where I can just push down on the clip and it opens. Then I realized that the batteries does not need to be change as it is rechargeable via USB! The controller's package even includes a nice mini screwdriver. Next thing I noticed was that it came with an extra wrist strap. Does that mean the wrist strap was cheap and would break easily? I decided to put it on the controller and literally took it for a whirl. I swung the snakebyte™ Wii Premium Remote XL+ Controller around like a cowboy with a lasso by the strap and it held pretty well. I didn't think the extra strap was needed after seeing how durable it was. Now that I got the batteries and wrist strap in place, I synced it with the very convenient external sync located at the top of the controller. So far so good.

Now comes the most important part of the review. Testing the snakebyte™ Wii Premium Remote XL+ Controller with games. First game up for testing was Wii Sports Resort which requires motion plus. I tested most of the different sports in the game including basketball (which I actually set a new high score while testing the controller), and archery which allowed me to see if it works well with the required nunchuck accessory. Everything worked well. There was a slight instance during the basketball game where the snakebyte™ Wii Premium Remote XL+ Controller needed to be calibrated a few times by the game while the nintendo branded controller did not.

I tested it next with a new game, Wii Party. The controller worked perfectly here. Everything played smoothly.

I want to note that the blue led lights on the controller is very bright. Maybe too bright, but I barely looked at the controller while playing so it wasn't a problem. The build quality on the controller is on par with any 3rd party controller out there. It's pretty durable and passed a few of our "accidental" drop test. I'm just wondering why XL is in it's name. Nothing seems to be extra large about it. The snakebyte™ Wii Premium Remote XL+ Controller also fits in the plastic sleeve that came with the regular Nintendo branded controller.

Pros:
- External sync button. No need to remove a protective skin and/or the back plate of the remote in order to do so
- Rechargeable Batteries via USB
- Price

Cons: The snakebyte™ Premium Remote XL+ Controller's speaker volume is a lot louder than the regular Nintendo Wii Remote. This could be a good thing, but when you and your friends and family are using different brand controllers, you will have controllers with different volume levels. If you're playing single player games, you can easily adjust the volume via the Wii menu setting. At high volume the sound quality seems to deteriorate.

Overall: At a retail price of only $29.99 (as of writing via Amazon), we highly recommend getting the snakebyte™ Premium Remote XL+ Controller. It's $10 cheaper than the Nintendo version and has a better design and features. It's also available in black color.

Review written by Ben Li of AsiaFinest.com.

Talk about this snakebyte™ Premium Remote XL+ Controller in our friendly discussion forum! Be sure to check out our other reviews. Write an Asian related article, and get it read by thousands of people daily. Get credit for it. Click here for more details on submitting an article to us.