AsiaFinest Exclusive Interview with Jay Chou on Green Hornet
---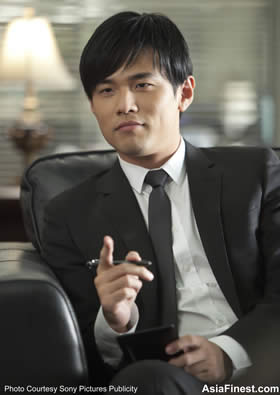 December 22nd, 2010.

King of Asian Pop, JAY CHOU, has made his mark in the Far East and now officially landed in the States with his latest lead role in The Green Hornet. While shooting a commercial in Los Angeles, Jay Chou took a moment to exclusively talk to AsiaFinest.com about acting, Bruce Lee, favorite cars, girls and much more! Check out the Jay Chou interview transcript below. We will post the audio files soon. Be sure to check out Asiafinest's review of The Green Hornet movie. Stay tune!

Translated from Mandarin. Interviewed by Norina Li

AsiaFinest: The Green Hornet is an action-packed movie filled with explosions and fights, how did you prepare for you role as Kato?

Jay Chou: I did one month of training mainly dealing with car scenes; however the most important part was practicing English. The fights were not difficult because I practiced a lot in my music videos.

AsiaFinest: Kato makes great coffee, good with cars and makes fighting bad guys look so easy - are you anything like your character?

Jay Chou: Aside from coffee, I can do all of them.

AsiaFinest: What's your favorite car?

Jay Chou: I currently have three favorite cars. Mercedes Benz SLR, Batmobile – just like the one in Batman – and the last one is Black Beauty.

AsiaFinest: You and Seth Rogen have such great chemistry onscreen - he even said in an interview that you're super cool and funny - what was it like working with him?

Jay Chou: He's just like the way his character is in the movie. He's really funny just like movie character but he acts much dumber in the movie. He's very smart in reality.

AsiaFinest: Who do you think is funnier - you or Seth?

Jay Chou: I think Seth Rogen is funnier because he always makes jokes about everything.

AsiaFinest: You had a little love interest with Cameron Diaz in the movie - what was it like working with such a beautiful actress?

Jay Chou: Her smile is very attractive. It's pretty comfortable working with her. Sometimes when the media asks me questions, Cameron would teach me some English to prepare for press conferences.

AsiaFinest: After this movie comes out, we know that there are going to be a lot of girl fans here in the States. What do you look for in a girl?

Jay Chou: She must like to listen to my music and be a fan.



AsiaFinest: Bruce Lee once played the role as Kato - how does it feel to the one filling in his shoes?

Jay Chou: I cannot replace the way Bruce Lee played the part, so I used my own way – and added some music in there.

AsiaFinest: If you could be a superhero, what secret power would you like to have?

Jay Chou: I want time traveling because I directed [Secret] dealing with the same topic.

AsiaFinest: You have already worked with such A-list actors, who else would you like to work with in the future?

Jay Chou: I would love to work with Leonardo DiCaprio because I loved his movies like Inception and Shutter Island. It would be great to be able to work with him in the near future.

AsiaFinest: You said that you want to introduce your music in the US - any plans on an English album?

Jay Chou: It's not in the plans because my focus is still in Asia since my English is not good enough. I think in the US industry, it will be easier to be in movies first. However, I would probably include some English songs in my new album.

AsiaFinest: You're a musician, singer, producer, actor and director - what's the next big thing for you to accomplish?

Jay Chou: The next will be a TV host in Taiwan. It's an interesting role, because I've never done this before.

AsiaFinest: I know you're in the middle of a world tour – is there any plans to coming to New York City for a concert?

Jay Chou: We did it before three years ago in Connecticut… maybe we'll do it next year.

AsiaFinest: You have a lot of fans on AsiaFinest.com - can you give them a little shout out?

Jay Chou: It's sad that I don't get to see all my fans. The fans are my power. I hope my fans can continue to support me. Please support my album and my movies. I will have a new album next summer.

AsiaFinest: We look forward to the success of The Green Hornet in January. Thank you again for talking to AsiaFinest.com.



Jay Chou's Green Hornet Picture Gallery || Jay Chou's Products || Jay Chou's Profile


If you have any pictures of Rain, please send it to us and we'll credit you for it. Talk about Rain in our friendly discussion forum!