AsiaFinest Jay Chou
---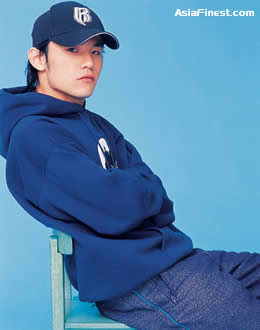 English Name: Jay Chou / Chow
Birthdate: January 18, 1979
Horoscope: Capricorn
Height: 173 cm
Weight: 135 lbs
Blood Type: O
Education: Tan Jiang High School (Music)
Marital Status: Single
Favorite Sports: Swimming, bowling
Instruments: Piano, viola, guitar, cello, jazz drum
Favorite Sports: Basketball, nunchucks
Favorite Music: R&B, Soul, Hip-Hop
Favorite Singer: Usher, Babyface
Favorite Musician: Chopin, Liszt, Yo-Yo Ma
Favorite Color: Blue
Favorite Food: Chicken
Favorite Actor: Jet Li
Favorite NBA Player: Michael Jordan
Childhood Dream: Become Bruce Lee
Hobbies: Songwriting, movies, basketball, electronic games
Strengths: Writing songs/lyrics, sports
Weaknesses: Shy, soft-hearted, easily nervous

He may be still young, but look out world! He may surprise you! If you ask around, many would say that the music world has a new leader - the real king is Jay chou. As a child, Jay chou was never too good at academic subjects, and when he didn't get into any college, a lot of people predicted that he won't have much potential in life. His mom always worried about his future, but he never did. "I knew I still had music to depend on. For everything else, I've had too much confidence, but it is for my musical talent that I'm so sure of myself," he recalls. Growing up in a single-parent family, Jay lived a solitary childhood. Without many friends, he had a hobby of daydreaming, fantasizing into his world of music.

So how did Jay get into music? At the age of three, he started learning to play the piano. He recalls his mother being very strict, to make sure he practiced sufficiently. Later, he learned to play the cello. Today, both are two instruments that he plays with superior dexterity.



With all the musical talent, it isn't surprising that Jay started out as a songwriter. Since the age of sixteen, he has been writing songs for many of the most popular singers. Today, he has already written for some of the most popular Asian singers, including Coco Lee, Jacky Wu, Valen Hsu, Power Station, etc.

It was only in 2000 that Jay released his own debut album "Jay", with the main style being R & B / rap. Singer/actress Vivian Hsu wrote the lyrics to three of the songs in the album: Cute Woman, Istanbul, and Tornado. Jay's soft and smooth voice is especially soothing and serene, making this first album an immediate hit. Each song in the album has its own, different style, and skillfully, Jay used his voice to suit each song's character.

Lyrics are an element that cannot be neglected. Lyrics of Jay's songs all have a unique touch. In his song "Dad, I am Back", the subject is a broken family. "I heard that after war, there is peace. Why do I always see my dad beating my mom? Since I was young, you told me to learn from you, use you as a model. So much pretense. Mom always said be good, listen to your father. How do you expect me to be like you!" Then, in his song "End of the World", we see a different aspect of him. "Wanting to smile, to disguise the fallen tears. Gently nod, admit the fear of darkness. I just need, you to be at my side for a while. And you, won't bestow a small bit of sympathy."

Ultimately, it is Jay's talent that has brought him to fame. His first two albums were nearly created all by himself - songwriting, producing, harmonizing, etc. In his concerts, it is not unusual to see him play the accompaniment as well as sing at the same time onstage, while his fans cheer wildly from below.

In 2002, Jay has won awards from all over the world. In China, he has won the most prestigious annual Channel V award for Best Male Singer. Today, he is often regarded as the best Asian male singer, and the reputation earned him a title of "Small King of R & B"

In 2005, Jay Chou played the leading role in the movie Initial D (Takumi Fujiwara), which was based on a popular Japanese manga of the same name. It was the most popular and talked about movie in Asia, premiering in Taiwan, China, Hong Kong, Singapore, Malaysia, Thailand, Japan and Western Countries as well. Other well known celebrities are playing too, such as Anne Suzuki, Edison Chen, Shawn Yue, Chapman To and Anthony Wong.

In 2011, Jay Chou makes his United States movie debut as Kato from The Green Hornet movie.



Click to Purchase

Jay Chou's amazing 2002 tour concert "The One," with an incredible total audience of 40,000 people has been captured on to VCDs. This twin-VCD set is a live recording of his 23 smash hits in his concert at the first station, Taipei.

As always, Jay promises an excellent performance with his vocal and dance skills. He invited his idol David Tao to be the guest performer. Jay also came out with various costumes, including Ninja, basketball player, soldier and vampire looks, perfect for those R&B nights. Watch out for Jay's R&B and RAP skills!

This version comes with an movable action figure of Jay and a 72-color-page booklet of the "making of" of his concert! Highly Recommended! Check out Jay Chou's other products!



Jay Chou's Picture Gallery || Jay Chou's Products || AsiaFinest's Exclusive Interview with Jay Chou


If you have any pictures of Jay Chou, please send it to us and we'll credit you for it. Talk about Jay Chou in our friendly discussion forum!