AsiaFinest Jolin Tsai
---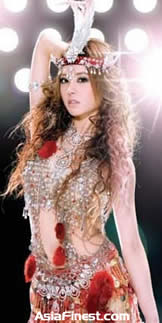 English Name: Jolin Tsai
Mandarin Name: Tsai Yi Ling
Cantonese Name: Choi Yee Lam
Birthday: 15, Sep 1980
Place Of Birth: Taipei , Taiwan
Chinese Zodiac: Monkey
Family Members: Parents , Elder sister
University: Fu-Ren Catholic University
Most Confident: Singing
Hates: Insomnia
Spoken Language: Mandarin , English
Hobbies: Watching Television
AKA: J-Game

Jolin Tsai's Favorites:
Celebrities: Tom Cruise, Julia Roberts
Male Singer: David Tao
Female Singer: Faye Wong , Mariah Carey
Flower: Rose
Pet: Dog
Season: Summer
Festival: Christmas
Colors: Black , White
Fruits: Every One Of Them
Feature: Eyes
Brand: Guess
Movie: My Best Friend's Wedding

Jolin Tsai first broke into the Taiwanese entertainment industry at age 18, winning first place in an MTV singing competition with a cover of the Whitney Houston song "The Greatest Love of All". After her performance, she was signed by Universal Music Taiwan. Tsai released her first single, "Be a Neighbor to the World (I Can)", in July 1999. The single was sold in 7-Eleven convenience stores around the island, and was followed by her first full-length album, Jolin 1019, in September 1999. Tsai's girl-next-door image made her a quick favorite among local teenagers, particularly boys, earning her the nickname "Teenage Boy Killer". Jolin 1019 sold over 400,000 copies throughout Asia, and was released in multiple formats in several countries.

Tsai released her follow-up album, Don't Stop, in May 2000. This album spawned several singles which charted highly in the great Asian market, and marked her rise to fame in the region at large. She also released a book of photographs mainly taken in Hawaii around this time. By Tsai's third album - Show Your Love - her image had changed to suit her age of 21. The album was soothing, with many new tunes; however, its sales did not match those of her previous two records.



Her fourth album, Lucky Number, still did not manage to return her to the popularity she had previously enjoyed, despite its range of new tracks and styles. She also sang the theme song for the movie Atlantis: The Lost Empire. For a year, due to problems with her record company, she did not release any albums. However, she came out with her second photobook, taken in Thailand, and a song composed by Taiwanese singer-songwriter Jay Chou. Eventually, she managed to sign on with Sony Music, leading to the biggest break of her entire career.

When she changed record company in the year 2003 her record sale has skyrocketed again. Her new company - Sony Music has changed her look from the student look to a sexier young woman. This transformation totally established her as the new Queen of the Pop in the younger generation in Taiwan.

Jolin Tsai's album Magic topped the Taiwanese album charts for three months, and sold more than 300,000 copies in Taiwan alone. This transformation gave her what she needed to make a comeback to the music industry after being gone for almost a year.

Tsai's sixth album, Castle, sold well and became the top album in many Asian countries. This album featured a few songs, including "Rewind", written by Jay Chou. On April 25, 2005, she released her seventh album, J-Game, which also topped charts throughout Asia. This album features one song, "Exclusive Myth", composed by Lee-Hom Wang. Tsai is now a superstar in Asian countries such as Taiwan, China (including Hong Kong), Malaysia, Singapore, and she has fans worldwide, including a large fan base in the United States of America. Tsai had a hit with "Love Love Love", a cover of the song "Stop Stop Stop" by Nu Virgos. The lyrics were entirely rewritten in Han, except for the words "love love love" in the chorus.

She released her biggest album in May 2006 called Dancing Diva, and it has already sold over 2 million copies in Asia and is one of the leading selling albums of the year in Taiwan. Was she done for the year? Of course not. In October 2006, she released yet another album called Dancing Forever – collaborating with David Tao in a duet and singing songs performed by previous divas, Sandy Lam and Faye Wong. Be sure to check out AsiaFinest.com's exclusive coverage with pictures and videos of Jolin Tsai Dance Forver World Tour 2006!

Jolin is extremely popular in not only Taiwan and China, but she has also seen great success in Hong Kong, Singapore, and Malaysia, as well as having a strong fanbase in the United States.



Jolin Tsai's Picture Gallery || Jolin Tsai's Products || Jolin Tsai's Videos


If you have any pictures or videos of Jolin Tsai, please send it to us and we'll credit you for it. Talk about Jolin Tsai in our friendly discussion forum!