AsiaFinest Interview with Hifana
---
AsiaFinest was able to get an interview with the talented duo of Hifana after their New York-Tokyo Music Festival 2006. Questions were asked by Norina Li of AsiaFinest.com. Check it out!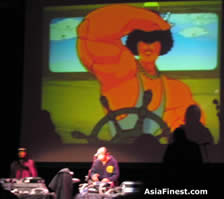 AF: Where does the name Hifana (which means "south wind") originate from?
Hifana: In a dialect of Okinawa (southern end island of Japan), HIFANA means "Southern Wind" (also means "Southern Wind"). We named ourselves as HIFANA since we both really like Okinawan atmosphere, local food & music and it also sounds very nice for us.

AF: How did you guys get together?
Hifana: I ("KEIZOmachine!") used to work at Reggae Bar in Kichijyoji w/ MAHARO (who is doing artworks for album covers & vinyl covers for HIFANA). We happened to be friends through skateboarding together and he later introduced me to his younger brother "Juicy".

AF: How do you prepare for a live performance?
Hifana: It depends on each shows, but we usually practice 2 or 3 dayz for one show. (gotta practice harder though..!!)

AF: Great performance at the New York-Tokyo Music Festival. Was that your first time in NY? What did you think of the New York-Tokyo Music Festival 2006?
Hifana: Yes. It was our first time to have live show in New York. This New York-Tokyo Music Festival was located in such a great location. We saw many powerful New Yorkers enjoying and it was really a lot of fun for us.



AF: I know you use to be involved with a previous band called Tribal Circus. How did you guys end up from a belly dance percussion group to forming Hifana?
Hifana: Tribal Circus did not really end up. Those activities as Tribal Circus is just paused for now. If we have any opportunities, we would love to start Tribal Circus again. As for HIFANA, we just doing what we purely want to do for now.

AF: Instead of using turntables and laptops to create such unique beats, your equipments consist of drums, MPC, CD players and other tools: why did you decide to use these instruments?
Hifana: Although our band has been changed, I think that we still are part of a percussion band. Let's say our gears just have been changed. What we are doing have not been changed at all. DJEMBE to MPC, AGOGOBELLS to SCRATCH. TIMBALES are still in our set.

AF: Using these instruments, you compose this kind of music that is seriously so hard to put into words. There are so many ways that a listener can describe your music, but how would you describe your music in one word?
Hifana: HIFANA!!

AF: Fresh Push Breaking debuted in November of 2003 and was selected by various media as one of the best CDs of 2004. In 2005, your second album, Channel H, also created major buzz worldwide. How have you guys grown since the first album?
Hifana: We did not really feel big changes, but teamwork of our crew got more tight and gears have been developed a lot. So those aspects made us to do more things what we've been trying to do.

AF: Who/what influences your music?
Hifana: Percussion sounds & Club music inspired us a lot

AF: The illustrations in your Fat Bros music video were amazing… so amazing that it won various international and domestic awards. As for Wamono, I loved the animations, the colors, and the story. Can you please tell me how you came up with the video?
Hifana: Thanks that you liked HIFANA videos!!!!! All the illustration on our works are created by "MAHARO" and "Sorbonne Sensei" (Juicy's a.k.a. name as an illustrator). Usually, each of us come up w/ some ideas and then we talk about 'em w/ everyone. So the idea becomes more interesting after that.

AF: Just like your music videos, your live performances are just as entertaining. Instead of using any programming or sequencing, I love how you guys are using human powered beats – literally beating and tapping on the sampler pad. What is it like performing live?
Hifana: For HIFANA, live show is very enjoyable and favorite stage to explain to the audiences "WHAT IS HIFANA?". It's the happiest thing for us to share excitement of dancing in the rhythm and loud sound together w/ the audiences.

AF: As your work becomes more recognized, what can your growing fan base expect from Hifana in the near future?
Hifana: Hmmmm... Well... let's say "a lobe"...!? Check out our new FRESH!! disc "NAMPOOH CABLE". Many of our friends joined in this compilation album and we made 21 songs!! For people who live outside of Japan could also buy this album on Amazon!!



Hifana's Picture Gallery || Hifana's Products || Hifana's Videos || Hifana's Profile


If you have any pictures of Hifana, please send it to us and we'll credit you for it. Talk about Hifana in our friendly discussion forum!