AsiaFinest Hifana
---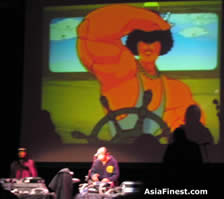 Group Name: Hifana
Group members: KEIZOmachine! and Juicy
Real Name: Keizo Fukuda and Jun Miyata

Hifana, which means "south wind" in the Okinawan dialect of Japanese, is the break-beat duo of KEIZOmachine! and Juicy. Since their first debut in the hip hop scene, the Tokyo-based group, whose real names are Keizo Fukuda and Jun Miyata, are known for beating and tapping on sampler pads without the use of programming or sequencing. Their unique method of creating human powered hip-hop beats has definitely made heads turn in the music industry

The pair have been making music together since the 1990's and began as a percussion group called Tribal Circus, which included a belly dancer, drums, and a didgeridoo (a type of Australian musical instrument made from a long wooden tube). As time passed, their urge to create sounds that they couldn't get out of drums became increasingly stronger. Eventually they formed Hifana and began to focus more on hip-hop, because they felt that this genre offered the most musical freedom. Although they formed a separate identity from Tribal Circus, there is still a strong emphasis on percussion as it is heard in nearly every track of their albums.

In November 2003, Hifana released heir first album Fresh Push Breakin'. It was selected as one of the best CDs of 2004 by various media. Their 2nd album, Channel H, was released in August 2005, and has yet again created major buzz worldwide. They were in the Oricon top 100 and landed a cover on Tower Records' monthly magazine Bounce.



Aside from the sound of percussion, their music is consisted of a unique blend of Japanese instruments, bird chirps, beeps, ad voiceovers, train announcements… and just basically everything you can think of. Although their sounds are borrowed from all around the world, the visual images that come along with the songs are deeply rooted in Japanese animation and comedy.

The music video for their popular track "Wamono" is based on a Japanese folklore and animated in a style like ukiyo-e, Japanese woodblock printing. In this story, Hifana plays these two animated fisherman characters that battle the stormy seas with turntables and a P.A. system. This video is a perfect example of two people who are stimulated by music from around the world, but are creating music in present-day Tokyo. Hifana's music videos are best described as traditional Japanese storytelling with a very modern twist. Although their visuals may be entertaining, is it possible to say the same about their live acts?

If anyone has ever watched a scratch DJ, it is obvious that all they do is stand around and play with their turntables. There is only so much one can watch before he/she begins to lose interest. So without dance numbers like Justin Timberlake or Rain, how exactly does Hifana keep the audience entertained?

The difference between skilled turntablists and Hifana is that, unlike most electronic acts these days, Hifana is not glued to their turntables or laptops. They are constantly tapping and hitting their MPC (music production center) like drums to create a combination of beats that are unheard of. The most amazing thing about their live performances might just have to be that there is no pre-programming for these guys. They are playing their hits all from memory. But wait, it gets even better. At the end of their act, KIEZOmachine! and Juicy usually shows the crowd one hot trick where they repeatedly switch from turntable to MPC without dropping a beat. It is no surprise that after every performance, people are left blown away and their fan base has just gotten bigger.

The brainchild of Weiden+Kennedy Tokyo Lab, a music label launched in 2003, has already established their name in Japan and beyond. It will be exciting to see what will be in store for Hifana. The only problem people can possibly have with their music is – which iPod category should we put their songs in.

Profile written by Norina Li of AsiaFinest.com



Hifana's Picture Gallery || Hifana's Products || Hifana's Videos || Interview with AsiaFinest.com


If you have any pictures of Hifana, please send it to us and we'll credit you for it. Talk about Hifana in our friendly discussion forum!