AsiaFinest Rain Bi
---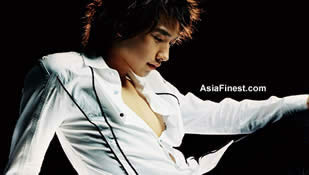 Name: Bi aka Rain
Real name: Jung Ji-hoon
Nickname: Puppy
Date of birth: June 25, 1982.
Physical stats: 184 cm in height, 74 kg in weight
Blood Type: O
Favorite Color: White, Black
Education: Post modern music department, Kyung Hee University
Favorite Actor: Charlie Chaplin, Hahn Suk-kyu
Favorite Genre: R&B, hip-hop, funk
Favorite Sport: Basketball, swimming
Favorite Artist: Michael Jackson, Janet Jackson, Usher
Hobby: Movies, music, collecting shoes and clothes
Special skills: Sing, dancing, acting

Jung Ji Hoon, born on the 25th of June 1982 is a well known actor and singer in South Korea.. He uses his stage name, Bi (pronounced: "Bee" which means Rain in Korean), when he performs as a singer and dancer. His real name is Jung Ji Hoon, which he uses when he performs as an actor. His surname is Jung and his given name is Ji Hoon (also spelled as Ji Hun)

He discovered his passion for dancing ever since he was in the 6th grade. As a teenager, he was part of the boyband group called "fanclub" and years after the group ended, Park Jin Young (Korean producer/singer who worked with American singers Will Smith, Mase, Lil' Kim, 3LW, Tyrese) took Bi under his wings after he auditioned for JYP entertainment and trained him for years in dancing and singing. Bi was a back-dancer for a famous Korean singer named Park Ji Yoon and Park Jin Young himself. During those training years, Bi was not at home much and would lie to his parents telling them he was gonna study in the library while in fact he went to the dance studio. He struggled financially and at times had to go without meals. Nevertheless, he continued to focus on his dance and singing even though he was anxiously waiting for his debut.

Finally in 2002 he debuted with the song "nappun namja (bad guy)" charming fans with his singing and powerful choreography. After the 1st album, he starred in the drama "Sangdoo Hakyo Gaja (sangdoo let's go to school)"; many people were impressed by his acting skills regardless that it was his first time acting in a drama. Following the success of his debut, he came back with a new set of style in his 2nd album and hit song "how to avoid the sun".

In 2004, he starred in another successful drama called "Full House" which has aired in other Asian countries such as the Philippines, Indonesia, Singapore, Taiwan, Hong Kong, China, Malaysia, Vietnam, Thailand, Japan and was one of the highest rating Korean drama which has won the hearts of many fans across Asia. His performance in Full House has won him the Best Actor Award at the KBS Acting Awards

His 3rd album "it's raining" has been released in Japan, Taiwan, Hong Kong, China, Singapore, Indonesia, Thailand and has top the foreign music charts in those countries; the album has sold more than 1 million in Asia and it is still in the process of being released in other Asian countries as well (soon to be in the Philippines). His concert called "Rainy day" which was held in Korea and Japan had concert tickets sold out on the first day. Jung Ji Hoon (Bi / Rain)

The American hip hop singer Lil' Kim has offered Bi to work with her on her new album, the group 3LW also collaborated with Bi on their album. The Korean Pop sensation, Bi received the 2004 "KBS Daesang Award" in Korea (Daesang is the highest Korean music award) and he has won the MTV Asia Grand Slam; a series of awards in the Asian countries that broadcast MTV Asia. He won the "Favorite Artist of Korea" from the 2005 MTV Asia Aid held in Bangkok and the "Popular Asian Artist Award" from Channel [V] Thailand, he also won the "Best Buzz Asia Award" during the MTV Japan Video Music Award 2005 and in Beijing he won the "Best Korean Singer" award in the MTV-CCTV Mandarin Music Honors. He is invited to perform in the American MTV Video Music Awards 2005 held in Miami and also at the MTV Latin Video Music Awards 2005 in Mexico. Since his debut in 2002, the 23 year old has been one of the most popular Korean artists in Asia. The success he achieved through his hard work is a promise that he made to his late mother.



In 2005, Bi clinched the Best Buzz Asia from Korea at the MTV Video Music Awards Japan 2005. He also won the best Korean singer award 2005 at the Mandarin Music Honors in Taiwan. Having been voted as the best Asian singer by the Taiwanese media, Bi is positioning himself as one of the most admired Asian stars this year. Wherever he goes, he generates huge public interest and becomes a hot topic of conversation. His every move is monitored by the media and draws keen attention from music fans. Bi is currently on an Asian music tour which started in Seoul and will travel to Tokyo and Hong Kong. He is creating and showcasing fresh new spectacles at every single concert, and tickets are selling out quickly as a result. His first solo concert in Japan last summer, entitled "Rainy Day Japan" and held at the Tokyo International Forum, was so popular that all the tickets were sold out 30 seconds after going on sale. And the tickets for another of his concerts in Taiwan were sold out the moment they became available. Bi continues to set records in Asia. Now planning to go beyond Japan and Hong Kong, Bi will make a foray into China by giving a concert in Beijing.

Rain Bi's personality and charm sweeping Asia
The Japanese pronounce Bi as "Pi," and they also describe the singer with another term as well. During one of his concerts in Japan, Bi enthralled his fans with a powerful and masculine performance onstage. But when he chatted with fans after the concert, he surprised his fans by displaying a boyish and playful demeanor, earning him the label "Kawai," which means "cute" in Japanese. He is known as a powerful man onstage and a "cute" persona offstage. It is this characteristic that makes his fans crazy about him. Bi is famous for trying his best in whatever he does. He is arguably the best dancer in the nation, because he learned to dance onstage as a backup dancer for an already-established singer before his own debut. It is hard to define his dancing with simple words because it is a mixture of so many diverse elements. He has created a whole new style of his own by integrating diverse genres of dance over the course of his long dancing career.

Singer Park Jin-young, who heads the entertainer management company to which Bi belongs, once told a radio show that "I was always wondering whether [Bi] understood what I told him because he never replied even when I scolded him. One day I entered Bi's room, and ended up breaking into tears." Bi, who was then an aspiring singer, was poor at expressing his emotions verbally to his older colleague. But what Park discovered in Bi's room was a wall covered with "post-it" stickers. Every single sticker was filled with notes of what Park had told and advised him. Bi had written down every single piece of advice his older friend had given him, and had been doing his utmost to correct his mistakes and improve his skills.

It can be said that this latent passion for excellence is what made Bi what he is today. And Bi has great potential for further development because he always tries his best to sharpen his current skills through ceaseless practice. He is truly a believer in the saying, "Opportunity visits those who make great efforts." There is no doubt that Bi will reach beyond Asia to become a global star someday because of his enormous talent and tireless work ethic. The success he achieved through his hard work is a promise that he made to his late mother.

In 2008 he played Racer Taejo Togokahn in The Wachowski Brothers film Speed Racer. In 2009 Rain stars in the movie Ninja Assassin as the main character Raizo, which was released on November 25, 2009.



Rain's picture gallery || Rain's Products || AsiaFinest exclusive interview with Rain || Rain's Videos


If you have any pictures of Rain, please send it to us and we'll credit you for it. Talk about Rain in our friendly discussion forum!