AsiaFinest 1 - on - 1 interview with Rain in New York
---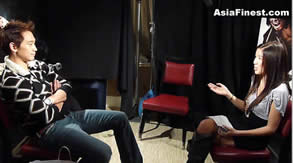 November 13th, 2009.

AsiaFinest was able to get an exclusive one on one interview with Korean superstar Rain. The interview took place at The London hotel in New York City. In our interview, Rain spoke about his role in the movie Ninja Assassin. He also spoke about his ideal woman, and that he needs a girlfriend soon. Be sure to check out the pictures, video, and transcript of our interview with the international idol, Rain!

Dressed in a wooly sweater and casual jeans on a chilly day in NYC, Rain asked, "Korean?"

"No, Chinese," I giddily replied.

While his eyes were distracted by his entourage of six in the congested room at The London, he said, "Oh, I love China."

"Yes – Hong Kong."

"I'll be in Hong Kong soon, " Rain said with a charming smirk and noticeably shorter haircut.

Despite a long day of talking to an extensive list of media outlets, Rain managed to focus on some small talk prior to the actual interview. While slouching in his red chair with his arms crossed, he did seem a bit too-cool-for-school. Although he looked more like the hot neighbor next door than a lethal killing machine in the Ninja Assassin, his presence naturally commanded attention. With this aura about him, it's no surprise that at the tender age of 27 – he is a pop singer, dancer, model, actor, CEO and designer. Rainism is in full effect indeed.

Click here to see our video interview with Rain!



AsiaFinest: Thank you for taking the time to talk to Asiafinest.com. We totally appreciate it. Now Ninja Assassin we saw yesterday and it was action packed. Very good.

Rain: Yea, it's so different, you know. Different type of movie. You know – it's going to be beyond your imagination.

AsiaFinest: Did you know martial arts before that?

Rain: You know – I learned Tae Kown Doe from when I was young. So when I was ten, so.. yeah.

AsiaFinest: Did you get hurt?

Rain: [pauses] Yes, I have lots of cuts.

AsiaFinest: Oh no…

Rain: Just a little bit. Even though everybody took care of me. I still got hurt. So, one day I pretend I broke my leg. So I said, "Oh, oh.. I can't feel my legs." People said, "Hey, are you okay?" "I'm just kidding…" It was fun.

AsiaFinest: When they first approached you to play the leading role, how did you feel?

Rain: I'm so excited. I'm going to be a superstar. Yeah – Ninja Assassin is very important to me.

AsiaFinest: The Wachowski brothers said, "This guy in unbelievable. He'e a natural. He's our dream come true." How does it feel when you have someone so established in the industry say that about you?

Rain: Umm… I couldn't have done it without the crew. Yeah – it was a good experience. I was so excited, so happy.

AsiaFinest: Well, I'm glad you are. Now despite the scars, I could not help but notice a lot of the girls in the theater saying, "Wow," when they see your body. How do you react when you see girls go crazy over your body?

Rain: Yeah – my character is, you know, my character's name is Raizo. He's very sexy. And, before this movie, you know, I had to make my body fit like Bruce Lee. I trained for 8 months, 5 days a week, 8 hours a day. And I only ate chicken breast and vegetables. You know, it was hard. Second of all, I learned a lot of martial arts – tae kwon doe, kickboxing, tai chi, karate. I love it.

AsiaFinest: Now in Full House, Sang Doo! Let's Go to School, A Love to Kill – none of the characters were like Raizo, so how does it feel to play somebody that's totally different?

Rain: Totally, totally different, You know… [pause]. Yeah, I love my character.

AsiaFinest: Now when the film is out in theaters, I'm pretty confident that you'll be winning a lot of hearts of the girls in America. I know that one of the questions that's going to come up is – are you single?

Rain: Yeah – I need a girlfriend. [laughs] So… very soon!

AsiaFinest: What do you look for in a girl?

Rain: [pause] I need a sexy girl. [laughs] I'm just kidding… I love all kinds of girls.

AsiaFinest: You have a lot of fans on Asiafinest.com, is there a message that you want to give to them?

Rain: Okay. Hello everybody. Please watch Ninja Assassin. It's a kick ass movie. You're going to like it. Thank you.



Rain's Interview Picture Gallery || Rain's Products || Rain's Profile || Rain's Videos


If you have any pictures of Rain, please send it to us and we'll credit you for it. Talk about Rain in our friendly discussion forum!